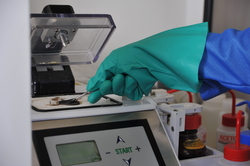 Houston, Texas (PRWEB) November 17, 2010
Smith & Associates, a leader in the electronics distribution market, today announced significant upgrades to its component testing and counterfeit detection facility at its Houston World Headquarters.
"Smith's in-house inspection and counterfeit detection capabilities are second to none, and with several key additions to our lab, we'll be able to identify and prevent counterfeit and non-conforming components more quickly and efficiently than ever before," said Kirk Wehby, Vice President, Operations. "Quality has always been an integral part of our operations, and this equipment will keep us far ahead of those who attempt to introduce non-conforming components into the market."
The newest additions to the in-house testing facility include:

Decapsulation Machine: Smith's in-house decapsulation machine is a powerful counterfeit detection tool. Through decapsulation, inspectors can verify die size and manufacturers' logos, confirm part numbers are correct, and inspect the architecture of the die.
X-ray Machine: This high resolution X-ray machine allows us to look inside components to verify that no voids have formed and that lead frames and bond wires are present and connected to the die. The machine also provides the capability of comparing OEM parts to X-ray images, identifying inconsistencies or signs of counterfeiting.
Luxo Scopes: These high powered microscopes provide amplified views of the outer surface of the component to detect signs of counterfeiting such as re-marking, blacktopping, sanding, oxidation, and/or re-tinting.
Solderability Test System: This machine tests the authenticity of components by verifying the quality of solder connections, ensuring that components are fully-functional, and have not been modified, altered or counterfeited.
"We take a highly proactive approach to quality, and our state-of-the-art testing facility is a reflection of that," said Matthew Hartzell, Chief Operating Officer. "Smith is continually researching and developing ways to upgrade and improve our in-house counterfeit detection equipment and capabilities. By staying at the forefront of this evolving technology, we are able to ensure that components we distribute are completely reliable."
In-house testing labs are present at each of Smith's three shipping and logistics hubs, located in Houston, Hong Kong and Amsterdam. Smith maintains the most sophisticated testing equipment, and is capable of performing dimensional statistics, digital imagery, stringent product verification, functional testing, and comparisons with manufacturer specifications.
About Smith & Associates - Founded in Houston in 1984, Smith & Associates (http://www.smithweb.com) is a leader in the independent distribution of semiconductors and electronic components to electronics and high-tech manufacturers. Smith offers shortage sourcing for commodity and obsolete parts, innovative purchasing and inventory management solutions, redistribution of excess inventory, and component stocking for warranty and repair programs.
A privately held company, Smith & Associates employs more than 250 people worldwide, with annual revenue in excess of US$400 million. Smith's regional hubs in Houston, Hong Kong and Amsterdam are ISO certified and IDEA compliant. In addition, sales and purchasing offices are located in Silicon Valley, Barcelona, Guadalajara, New York, Shanghai, Shenzhen, and Seoul. For more information or to reach a Smith representative 24 hours a day, please call: 1.800.HOUSTON or +1 713.430.3000.
For more information, contact:
Mark Bollinger
Smith & Associates
V.P. of Marketing +1 713.430.3000
###