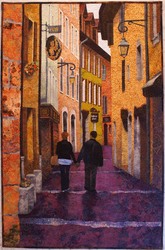 Hampton, VA (Vocus) November 15, 2010
This February 24-27, 2011, celebrate 22 years of quilt, wearable, and textile art at Mid-Atlantic Quilt Festival XXII, one of the largest and most anticipated quilt gatherings on the entire eastern seaboard. Presented by Mancuso Show Management and drawing upwards of 10,000 attendees, this show is a must for any quilting or art enthusiast.
The theme of this year's festival is "Show & Tell," giving entrants an opportunity to demonstrate their creations in three categories: Traditional Quilt, Innovative Quilt, and Wall Quilt. Other highlights include a Merchants Mall with over 250 vendor booths (showcasing everything from quilting supplies to sewing related craft items), clothing, textiles, books, antique quilts, and more. There will also be plenty of special exhibitions and workshops, as well as lectures by some of the most-renowned individuals in the quilting industry.
While at the festival, be sure to check out the wearable art competition and cast your vote for the "Quilt" and "Wearable Viewer's Choice Awards". This competition features works from some of the finest quilt and textile artists in the country. Winners will be announced on http://www.quiltfest.com.
Mid-Atlantic Quilt Festival XXII Hours:
Thursday, February 24- 10:00 a.m. – 6:00 p.m.
Friday, February 25- 10:00 a.m. – 6:00 p.m.
Saturday, February 26- 10:00 a.m. – 6:00 p.m.
Sunday, February 27- 10:00 a.m. - 4:00 p.m.
Mid-Atlantic Quilt Festival XXII Admission:
$14.00 admission (includes re-admission)
$12.00 admission- Sunday only
Children under 16- Free
*Discounts for 20 or more can be arranged by calling 215-862-5828
More information on the Mid-Atlantic Quilt Festival can be obtained by visiting http://www.quiltfest.com or contacting the Hampton Roads Convention Center at 757/315-1610.
Partially bordered by the Hampton Roads harbor and Chesapeake Bay, Hampton, with the 344,000 sq. ft. Hampton Roads Convention Center, is located in the center of the Hampton Roads metropolitan area. Hampton is the site of America's first continuous English-speaking settlement and is home to such visitor attractions as the Virginia Air & Space Center and Riverside IMAX ® Theater, Hampton History Museum, harbor tours and cruises, Hampton University Museum, Fort Monroe, Peninsula Town Center, award-winning Hampton Coliseum, The American Theatre, among others.
###