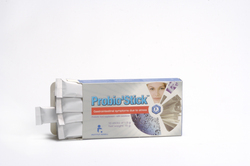 ProbioKid and Probio'Stick studies position Institut Rosell-Lallemand as a leader in probiotic research," said Isabelle Champié of Institut Rosell-Lallemand. "Probiotics are now a solution to a wider range of medical problems than just gut health.
Montreal (PRWEB) November 17, 2010
A study just published by the British Journal of Nutrition found Institut Rosell-Lallemand's probiotic formula Probio'Stick (a combination of Lactobacillus Rosell-52 and Bifidobacterium Rosell-175) significantly reduces psychological distress in volunteers, in a double-blind randomized study.
These results are supported by a pre-clinical behavioral study also described in the same publication, demonstrating the anxiolytic-like effect of Probio'Stick in rats. In a previous randomized study, Probio'Stick was shown as the first probiotic preparation to efficiently reduce stress-induced gastrointestinal symptoms in chronic stress sufferers.
The clinical study, supervised by the team of Drs Messaoudi and Bisson in Nancy (France), assessed the effect of the administration of Probio'Stick for a period of one month on anxiety, depression, stress and coping strategies in healthy human volunteers. The study involved 55 healthy, stressed subjects that had undergone a range of psychological self-assessment tests and a biomarker for stress and anxiety (24 hour urinary free cortisol monitoring).
The authors of the new Probio'Stick studies concluded:
"Consumption of Probio'Stick mitigated psychological distress in three tests without displaying any adverse event. These results provide further evidence that gut microflora plays a role in stress, anxiety, and depression, perhaps via the enteric nervous system as well as centrally. Subject to the confirmation of these results, probiotics might offer a useful novel therapeutic approach to neuropathologic disorders and/or as adjunct therapies in psychiatric disorders".
Study Details
The randomized study showed that daily administration of Probio'Stick preparation for one month (equivalent to 3X109 CFU/day) had a beneficial effect on general signs of anxiety and depression (in particular the somatisation, depression and anger-hostility components, as shown by Hopkins Symptom Checklist-90 test).
The probiotic also improved the subject's ability to cope with the stress of everyday events (Coping Checklists test). Results of the self-assessment tests were correlated by a decrease of urinary free cortisol levels in the probiotic treated group, a biomarker for stress and anxiety. The investigators reported that it was the first time that free cortisol level was monitored during a probiotic study.
The pre-clinical study described in the same publication was based on a rat model of anxiety which is commonly used to screen anxiolytic agents. After two weeks of treatment, Probio'Stick showed a significant anti-anxiety effect, comparable to the effect of Diazepan which was used as a positive control.
For information: http://www.institut-rosell-lallemand.com or contact Schrenk Communications at 866-624-4460.
###