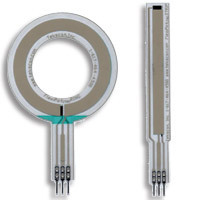 Boston, MA (PRWEB) November 17, 2010
Tekscan, Inc. is pleased to announce the addition of a flexible position sensor to its award-winning line of force and pressure sensitive technology. FlexiPot™, like Tekscan's reknowned FlexiForce® sensor, is ultra-thin, at just 0.008" thickness. This thin, flexible, low-power linear potentiometer complements the established FlexiForce® product line to offer more options to design engineers in the design of OEM products.
Its paper-thin properties in addition to its:

linearity (±2% error)
repeatability (± 1% of full scale)
spatial resolution (less than 2% of full scale)
low power-consumption
...make it especially attractive to engineers looking to incorporate a position sensor as a user interface in handheld consumer devices, which continue to get smaller and more lightweight. Applications include user interfaces in consumer products, such as MP3 players, or in medical devices such as syringes, to detect the volume of fluid remaining in the plunger.
Tekscan offers both standard and custom designs. FlexiPot™ is also available in high-temp versions, withstanding temperatures as high as 420°F (200°C), which is an advantage to engineers designing industrial controls.
Visit our online store to purchase samples for testing and prototyping. Sample packs start at just $65 for a package of four position sensors.
Contact us for more information on this new position sensing solution.
# # #