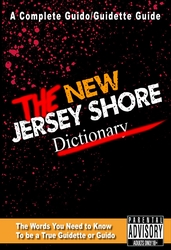 The New Jersey Shore Dictionary will help to learn all the terms to be a true Guido or Guidette
East Berlin, CT (PRWEB) November 16, 2010
DSPublishing announces the release of The New Jersey Shore Dictionary. The book has the terms and definitions of how to be a true Guido. Contains many features including pronunciation, use in sentences, phrases and slang terms. Covers the core vocabulary of the daily life of a Guido. Learn all the acronyms and terms before going to the bars and clubs to understand the Guido language.
Get it for your favorite Guido in training or as a gift for the hot Guidette. Some of the described acronyms in the book are DTF, DTS IFF, GTL and more. Some of the terms include a bronx zoo, chucky, dirty little hamster, gorilla, juicehead, sammich, torpedo, wifey and lots more. Also included is a little black book with rating system to remember the numbers and rate the hotties from the clubs.
Pre-order the book now at thenewjerseyshoredictionary.com – Coming soon to all major bookstores and online at Amazon.com, BarnesandNoble.com, Borders Bookstore and Bamm.com.
For information: http://www.thenewjerseyshoredictionary.com or
Contact: info(at)thenewjerseyshoredictionary(dot)com
Phone: 860-538-4084
Susan Davidson
TheNewJerseyShoreDictionary.com
DS Publishing
115 Main St. #67
East Berlin, CT 06023
Phone: 860-538-4084
info(at)thenewjerseyshoredictionary(dot)com
http://www.thenewjerseyshoredictionary.com
###