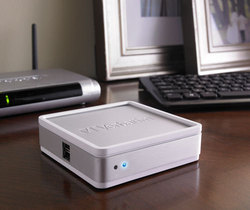 Whether it's retrieving files remotely, streaming iTunes® music or uploading photos directly onto Facebook, the MediaShare Mini is the must-have tool for today's connected consumer.
Charlotte, NC (Vocus) November 16, 2010
Verbatim, the information storage pioneer and computer peripherals leader, helps consumers nationwide get "plugged in" like never before with the brand-new MediaShare Mini™, an easy-to-use home networking solution that makes any USB drive and its files network accessible. The new unit also allows for seamless content sharing with friends and family as well as multimedia streaming.
"With more than 18 million external hard drives expected to be shipped this year, coupled with the increasing need for users to be able to access and share their content whenever and wherever they are, the MediaShare Mini is the perfect solution for helping people manage their digital life in the most efficient possible way," said Verbatim Product Manager, Ron Hanafin. "Whether it's retrieving files remotely, streaming iTunes® music or uploading photos directly onto Facebook, the MediaShare Mini is the must-have tool for today's connected consumer."
With the user-friendly MediaShare Mini, consumers can view, manage and share their files through the unit's intuitive browser-based interface. By simply plugging in the MediaShare Mini, connecting the unit to a home router through the included Ethernet cable and attaching any external storage device, USB or flash drive to the unit, files automatically become network accessible. Likewise, all content stored on a drive connected to MediaShare Mini can be shared and streamed or accessed remotely through the device in a variety of ways.
The MediaShare Mini's innovative features focus on the following key areas:

Connection – Allows connection from up to four drives, so consumers can easily access their files from any computer on a home network or remotely via the Internet
Access Anywhere – Users can wirelessly tap into the MediaShare Mini and remotely upload, download and manage files, as well as view photos, play music and watch videos through the Internet
Shared Albums – Consumers can create albums using any file type as well as send email links to colleagues or friends to view or download
On-the-Go – Lets users access files through the MediaShare Mini from an iPhone®, iPod® Touch, iPad®, Blackberry®, Android™, Palm® Pre™ or other smart phone
Photo Sharing – Consumers can upload photos directly to Facebook as well as create photo albums and automatically email links to family and friends, who can view or download photos directly from any Internet-enabled computer
Streaming Multimedia – Enables easy multimedia streaming of music and photos through Sony Playstation® 3, Microsoft Xbox 360™ or any Digital Living Network Alliance (DLNA)-compliant digital media adaptor
iTunes Server – Lets users upload music to drives connected to MediaShare Mini and stream to iTunes clients on both Mac® and Windows computers
Multiple Users – Gives consumers the ability to set up multiple accounts and create personalized albums for sharing
The perfect addition to a home or small office set-up, the MediaShare Mini comes complete with a three-year warranty and is available for an SRP of $89.99 at major retailers, including Fry's Electronics, Amazon and Buy.com.
Earlier this year, Verbatim introduced the MediaShare™, a home network storage solution with a 1TB storage capacity designed to efficiently help consumers consolidate, preserve, share and store all of their content on one dependable, high-performance device.
About Verbatim
Verbatim's businesses in the Americas, Europe/Middle East/Africa and Asia Pacific regions are wholly owned subsidiaries of Tokyo-based Mitsubishi Kagaku Media Co., Ltd. MKM's parent company, Mitsubishi Chemical Corporation (MCC), is one of Japan's largest chemical companies. Verbatim develops and markets innovative, high-quality products for storing, moving and using digital content. Known for its leadership in the optical, magnetic and flash storage and related accessories markets, the company provides reliable, unique technologies and products that are highly sought after and broadly distributed worldwide. For more information, contact Verbatim Americas, LLC, 1200 West W.T. Harris Boulevard, Charlotte, NC 28262. In Europe, Verbatim Ltd., Prestige House, 23-26 High Street, Egham, Surrey, TW20 9DU, UK, (+44) 1784 439 781. In Japan, Mitsubishi Kagaku Media Co., Ltd., 4-1-23, Shiba, Minato-ku, Tokyo 108-8415, Japan (+81) 3-5454-3972. Or visit the web site at http://www.verbatim.com and select the country of your location.
###