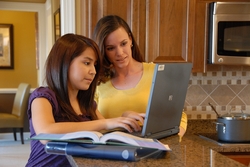 We have received numerous requests from satisfied parents who want their children to continue with the Connections Academy program beyond the eighth grade. Given this strong interest and the school's success, we determined that now was the time to expand
Baltimore, MD (Vocus) November 16, 2010
Wisconsin Connections Academy (WCA), the state's high-quality, highly accountable virtual public school, announced today that it will expand from serving grades K-8 to K-12 starting in the 2011-12 school year. This news comes as families from across Wisconsin prepare for the public school open enrollment period -- a time when families choose K-12 school options for the upcoming school year. This year's public school open enrollment period will be held from February 7th to February 25th, 2011.
"We have received numerous requests from satisfied parents who want their children to continue with the Connections Academy program beyond the eighth grade. Given this strong interest and the school's success, we determined that now was the time to expand," said Michelle Mueller, principal of WCA. "We are very proud of the innovative school option that we provide for students across the state of Wisconsin and look forward with excitement to this new chapter for WCA."
In addition to providing a seamless K-12 school experience, WCA's comprehensive new high school program will be a challenging, standards-based curriculum offering high schoolers a wide variety of rigorous courses which provide a solid foundation for whatever path they choose upon graduation – attending college or starting a career. Each high school student will be loaned a laptop for the year and core courses cover subjects in math, science, language arts, and social studies; electives range from foreign languages, to digital technology, journalism, and art history. Honors and AP courses will also available, along with comprehensive, academic, college and career-planning guidance services.
A pioneer in virtual public schooling, Wisconsin Connections Academy opened in 2002 and is chartered through the Appleton Area School District (AASD). In the 2010-2011 school year WCA will serve over 400 students from communities throughout Wisconsin. WCA students receive a personalized education and learn at home under the guidance of a state-certified AASD teacher, along with oversight provided by a parent or guardian Learning Coach. WCA is designed to meet the needs of students and families who are looking for alternatives to the traditional classroom – those who need a flexible schedule, learn at a different pace from their peers, are looking for a different learning environment, or need more individualized attention.
VIDEO: A Day-in-the-Life of a Connections Academy Family
WCA's successful and proven track record is widely known and drives parent and student interest in the online school. WCA consistently meets Adequate Yearly Progress, or AYP, a measurement defined by the U.S. No Child Left Behind Act that allows the U.S. Department of Education to determine how every public school and district is performing academically according to results on standardized tests. Once again, in the 2009-2010 school year, WCA received successful AYP marks across all objectives. Also in a 2009 Connections Academy survey of parents with students enrolled in WCA, 95 percent of families in WCA gave the program an "A" or "B" when it came to grading the school. More than 96 percent of families said they would recommend WCA to families with children attending other schools.
"These favorable results help demonstrate our commitment to student success and serve as useful measures for parents comparing the public school options available in our state," Mueller said. "I encourage families to learn about WCA's K-8 program and our new online high school at one of the many upcoming parent information sessions planned throughout the state. This next year is going to be very exciting for all of us."
To learn more about WCA visit our website or call 1.800.382-6010.
About Connections Academy
Connections Academy is a leading, fully accredited provider of high-quality, highly accountable virtual schooling for students in grades K–12. Through tuition-free public schools, full-time and part-time private school programs, and turnkey online programs for bricks and mortar schools, Connections Academy delivers superior, personalized education for students, with the freedom and flexibility to experience our online learning community from anywhere. The combination of certified teachers, a proven curriculum, technology tools, and community experiences creates a supportive and successful online learning opportunity for families and children who want an individualized approach to education. In the 2010–11 school year, Connections Academy will serve students in Arizona, California (Southern and Central), Colorado, Florida, Idaho, Indiana, Kansas, Maryland, Michigan, Minnesota, Mississippi, Missouri, Nevada, Ohio, Oregon, Pennsylvania, South Carolina, Texas, Wisconsin, and Wyoming through its public school programs. It serves students worldwide through the online private school, National Connections Academy. Connections Academy offers grades K through 12, though some public school programs do not offer all grades. For more information, call 800-382-6010 or visit http://www.ConnectionsAcademy.com.
Connections Academy is now on Facebook and Twitter.
Visit our blog for learning tips, virtual stories and more!
Media Contact:
Mikaela Balfany
414-276-6237
mbalfany(at)zeppos(dot)com
###