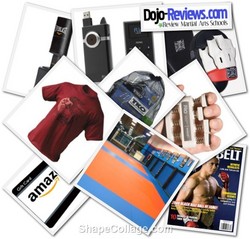 Over 20,000 Martial Arts Schools listed in the US and Canada.
(PRWEB) November 17, 2010
Dojo-Reviews.com is hosting a giveaway that will run from Oct. 26 to December 31, 2010 and will ask participants to write a review on their Martial Arts School. After leaving a Review, participants can share the contest on their Facebook page or Tweet to win Bonus Prizes.
Dojo-Reviews.com is a resource for finding the best martial art school in any location. Schools can be searched by entering an address or by browsing different cities. Over 20,000 martial arts schools listed in the US and Canada and in many different styles including: Karate Schools, Tae Kwon Do Schools, Jiu-Jitsu Schools, MMA Schools, Kickboxing Schools, Kenpo Schools, and more.
The reviews section focuses on rating schools based on student and instructor experience and is meant to ease the process when new students are looking for a martial arts school.
Prizes awarded to the most reviewed school as well as 3 randomly chosen reviewers.
Most Reviewed Martial Arts School Grand Prize:
Powercore Free Standing Heavy Bag
Zebra 10x10 Home Mat
Flipcam
2 Prohands Trainers
Instructor's Gi
1st Place Reviewer pick
Panther Punching Mitts
2 Prohands Trainers
Bonus Prizes 1 and 2 Year subscriptions to Martial Arts Magazines and a $100 Amazon Gift Card! Prizes for runner up and #3 reviewer pick available also. Please see the Martial Arts Contest Prizes page for more details.
About Dojo-Reviews.com:
Our mission is to have the largest directory of Martial Arts Schools, to enhance the experience of students, instructors and aficionados when searching for a Martial Arts Schools and to provide a reliable means of reviewing Martial Arts Schools. We believe that this resource will make it easier for new students to find the right school.
###