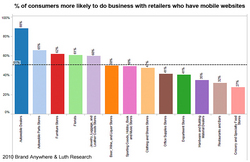 51% of consumers more likely to purchase from retailers that have mobile-specific websites
San Diego, CA (PRWEB) November 16, 2010
Brand Anywhere and Luth Research announced today the preview of their November 2010 report, "Supply & Demand of the Mobile Web for Retail." One surprising finding was that web retailers could increase consumer engagement by 85% by having a mobile-specific website. "Our Mobile Omnibus Survey shows that nearly one in two consumers are more likely to do business with a retail store if the store has a mobile website," said Roseanne Luth, CEO of Luth Research.
The Mobile Omnibus Survey was conducted October, 2010 among 1000 respondents representative of the U.S. population Key findings include:

51% of consumers more likely to purchase from retailers that have mobile-specific websites
4.8% of U.S. retailers have mobile-specific websites
22.8% of the top retail websites (ranked by Alexa®) have mobile-specific websites
Web retailers could increase consumer engagement by 85% with a mobile-specific website
"A significant gap has emerged between the number of retailers who have mobile websites and the consumers who want to shop on mobile sites," explains David Engel, Partner at Brand Anywhere and Chief Architect of the Mobile Indexer. This gap varies greatly across different retail categories.
Click Here to see video for Retail Supply of Mobile Websites http://vimeo.com/16811397
The Brand Anywhere Mobile Indexer is an application that looks at web pages on 10 devices, including the iPhone, iPad, Droid, SonyPSP, and BlackBerry Bold. Approximately 7,000 companies representative of U.S. retailers were indexed (~500 companies for each vertical in the graph above).
The Brand Anywhere Mobile Indexer also logs which retailers show Flash to mobile devices. According to Luth Research, 45% of Android users cannot see Flash because they have not installed the Android 2.2 upgrade. Additionally, nearly all iPhones, iPads, and iPods do not support Flash. Retailers who show Flash to these devices are surrendering this point of influence to their competitors.
Key Flash Statistics: (See Attached Supply for Retail Mobile Site Chart)

20.8% of all U.S. retailers show Flash to iPhones
44% of the Internet Retailer Top 500® show Flash to iPads
36% of the Alexa® Top 500 Shopping sites show Flash to iPads
Click Here to see video for Retailers, Adobe Flash, iPhone, iPad and the Mobile Web
"Our research indicates that consumers stand ready to reward retailers who provide a good mobile web experience," says Dan Flanegan, Managing Partner at Brand Anywhere. "This is especially true in high ticket categories like automotive where they spend more time researching and comparing products prior to making the decision to purchase."
To request a preview of the "Supply & Demand of the Mobile Web for Retail." report click: http://brandanywhere.com/supply-demand-oct/.
About Luth Research & SurveySavvy™
Luth Research, Inc. helps companies collect and analyze the opinions that drive their business. Luth's research panel includes over 3M respondents from across the globe. Luth is the official research partner for the Mobile Marketing Association. More information about Luth Research is available at http://www.luthresearch.com. SurveySavvy™ is one of the industry's largest global online research communities, making available some of the highest quality respondents for survey use. Based on referrals from individuals and a strategic network of affiliates, this viral strategy provides a diverse community, reaching out to even the most difficult to find target audiences. Luth Research's dedication to innovation and management processes, maintain SurveySavvy™ as a representative, highly responsive that continues to grow.
About Brand Anywhere & The Mobile Indexer™
Brand Anywhere is a mobile agency that helps traditional agencies sell mobile marketing services to the right clients at the right price. Their expertise is trusted by a wide range of clients, from boutique agencies to some of the world's largest brands. The Brand Anywhere Mobile Indexer is a business intelligence platform tracking the mobile marketing activity of U.S. businesses. It helps agencies, mobile platform providers, and mobile ad networks identify prospects by location, revenue, industry and the mobile marketing and advertising challenges they may be facing. It is currently in limited beta release. For more information about the "Supply & Demand of the Mobile Web for Retail" report and the Mobile Indexer, visit Brand Anywhere at http://www.brandanywhere.com.
# # #