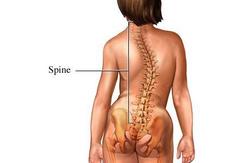 "The treatment has been presented as a viable option for adolescent scoliosis patients as well as adult patients seeking pain relief who have been given no treatment options other than surgery."
Grand Blanc, MI (PRWEB) November 17, 2010
Dr. Mark Morningstar of the Natural Wellness and Pain Relief Centers of Michigan at 10683 S. Saginaw St, Suite B in Grand Blanc announce a new treatment for scoliosis that is an alternative to wearing a rigid back brace for 23 hours a day or having spinal surgery. Dr. Morningstar is the only current provider in Michigan offering this new treatment. The treatment is outpatient in his clinic and patients can return to non-strenuous work, school, or household activities after a treatment session.
Scoliosis affects 4.5 percent of the population, more often in women than men. The condition occurs when the spine of the back forms a C or an S shaped curve. Scoliosis patients have a variety of symptoms including back pain, hip pain, leg pain, bad posture, trouble breathing (the scoliotic curvature of the spine can affect the inflation of the lungs while breathing), and digestive symptoms. Scoliosis is often first diagnosed during a routine exam between the ages of 7 and 19. Scoliosis can worsen during the teen years due to the accelerated growth. Most cases of scoliosis are idiopathic (cause is unknown).
With the new treatment, scoliosis patients first receive a comprehensive examination and medical history with x-rays to measure the spinal curvatures. Since each scoliosis patient is unique, each patient is placed in an individualized treatment plan. "After a short intensive care period of 4 to 12 weeks patients typically come to the office only monthly or every other month for monitoring purposes until they are skeletally mature. Adult scoliosis patients will come in only two to four times per year after the intensive period," comments Dr. Mark Morningstar.
The new scoliosis treatment is a combination of techniques that work together to improve muscle function and spinal curvature. "ARC3D works by retraining one's postural muscles to work together in a more coordinated fashion, allowing for better mobility and symmetry of the person's torso and thus curvature. By improving someone's outward posture, their spine improves as a byproduct," remarks Dr. Morningstar.
The goal with the new scoliosis treatment is to rehabilitate the abnormal spinal curvature and improve the function of major organ systems affected by the scoliosis. "ARC3D works not only to correct the structure of someone's spine and posture, but also improve the other bodily dysfunctions common in people with scoliosis, such as reduced lung capacity, abnormal digestive function, poor balance/coordination. These problems are equally as important to treat as the spinal curvature itself," said Dr. Morningstar.
Most insurance companies cover a majority of the new scoliosis treatment. The treatment can be used on children, teenagers, and adults. "The treatment has been presented as a viable option for adolescent scoliosis patients as well as adult patients seeking pain relief who have been given no treatment options other than surgery," adds Dr. Morningstar.
Dr. Morningstar is a co-founder of the North American Scoliosis Initiative, a professional chiropractic organization dedicated to the advancement of non-surgical spine and posture rehabilitation solutions for scoliosis. He is also the current president of the International Chiropractic Scoliosis Board. Dr. Morningstar has presented the ARC3D treatment to hundreds of doctors throughout the U.S. and Europe. He is a founding member of the Society on Scoliosis Orthopedic and Rehabilitation Treatment (SOSORT), a multi-disciplinary, international society dedicated to providing information for the conservative, non-surgical, exercise-based approaches to scoliosis treatment. Dr. Morningstar has practiced in Grand Blanc for 9 years.
###