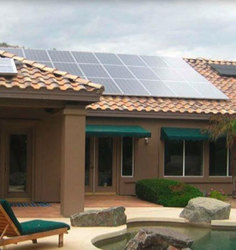 Preston Hansen, CEO of Sky High Energy LLC says "It's unbelievable that APS can operate at this breakneck speed. We've been inundated with calls daily as people are frantic to get their systems installed before the rebates get slashed further. "
Scottsdale, Arizona (PRWEB) November 22, 2010
Sky High Energy an Arizona Solar provider and installer has just reached a 500% increase in business due to rising energy costs and the increased demand for residential solar installations.
Recent changes in APS have caused incentive rebates to drop to $1.75 per watt! That's a 50% drop from last year's rebate of $3.00 per watt. The reason for the huge decrease in rebates comes from the high demand of Phoenix Solar installations. Solar installations are now taking almost a year to complete due to the number of new installation requests.
Preston Hansen, CEO of Sky High Energy LLC says "It's unbelievable that APS can operate at this breakneck speed. We've been inundated with calls daily as people are frantic to get their systems installed before the rebates get slashed further." Sky High Energy is seeing record sales and installations for 2010 and surpassing their competition.
Business has been so good the company recently launched a new website and is using SEO Tips and information by SEOGuides.com. Sky High Energy is embracing their new found success by reinvesting in the company and taking notes on what works and what doesn't.
Arizona solar power is the next big thing for Arizonians and Sky High Energy is going to meet those demands. More and more residents are realizing that another APS rate hike is around the corner and for many home owners the choice of going solar is one that will not only curb monthly bills but will benefit the environment as well.
# # #