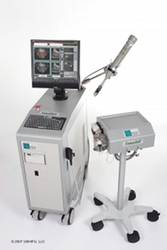 Charlotte, NC (PRWEB) November 18, 2010
Dr. Bert Vorstman of HIFURX.com recently released a new blog post outlining a guide for prostate cancer patients to follow up on their diagnosis before choosing a treatment option to ensure that the cancer is localized within the prostate gland. Localized cancers have the highest possibility of a cure using HIFU, cryoablation, radiation or robotic surgery, the four most effective, minimally invasive treatments currently being used.
According to Dr. Vorstman, early prostate cancer screenings, including a digital rectal exam and the PSA blood test, only show that cancer could be present. The only way to determine if, in fact, a patient has cancer is through a needle biopsy of the gland and the surrounding tissue. The results of this biopsy, combined with the PSA levels for the patient, will allow the doctor to assess how high a man's risk for cancer progression is. Patients who are categorized with a low to intermediate risk are the ones most likely affected with localized cancer.
When asked why the determination of localized cancer is so important, Dr. Vorstman said, "All prostate cancer treatments, including minimally invasive options like HIFU, have some sort of risk or quality of life issue that patients must consider. For those with cancer that has already spread outside of the gland, the chance of treatment curing the cancer is much lower, and thus they will need to weigh more heavily the risks associated with treatment before making a decision about whether or not to pursue treatment."
Patients who fall within the low or intermediate risk categories may need to go through further testing to ensure that the cancer has not spread. This begins with a biopsy of the margins and edges of the prostate. If these are clear, then most likely the prostate cancer is localized and minimally invasive treatment is the best choice.
In the recently released blog post, Dr. Vorstman recommends this additional biopsy of the margins for patients who have significant cancer at the base or apex of the prostate gland or have a Gleason score of 7 or higher. When asked about this second biopsy, Dr Vorstman said, "I feel it is pointless to ask a man to pursue treatment designed for localized prostate cancer if it is not localized, because of the considerable risk of side effects. Thus, I want to determine whether or not it has begun to spread before recommending treatment."
For patients who have cancer that has spread outside of the prostate, the best treatment is radiation. For those who have localized cancer, HIFU offers a precise treatment with a low risk of long-term side effects that affect the patient's quality of life.
About Dr. Vorstman
Dr. Vorstman, a former NIH sponsored surgeon researcher who currently blogs at HIFURX.com, is dedicated to helping patients treat and cure their prostate cancer without compromising quality of life. He promotes minimally invasive treatment options, like HIFU, from his practice, Florida Urological Associates. For more information about prostate cancer, HIFU or Dr. Vorstman, call 954-667-9456 or visit http://www.hifurx.com.
###