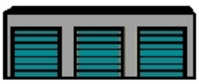 Find, compare and save on self storage by city, state or zip.
Mesquite, TX (PRWEB) November 17, 2010
Self Storage Directory offers a self storage finder that uses the latest technology to compile a listing of self storage locations in local area's with a comparison of benefits, features and prices on a state to state basis. Consumers looking for self storage can browse self storage listings or search by city, state or zip. They can contact any storage facility by email, phone or direct web link. If they choose, they can request a storage quote or reserve self storage online.
With the modern internet revolution, more people are reaching to the web to find, compare and save on self storage units in their local area. Self Storage Directory offers consumers and businesses a powerful combination of features that include self storage facilities listed by distance, a clickable map for directions and the ability to shop and compare self storage sizes and prices. With the online storage reservation system, consumers and businesses can receive a storage quote or reservation tailored to their specific requirements.
Self storage providers can increase online visibility from their free listing that includes basic information such as phone, address and web link. Premium listings and other advertising opportunities are also available. "Their goal is to make self storage units easy to find, compare and reserve" continued Mr. Simpson. "Offering self storage advertising at a fraction of the cost of traditional advertising is a win win for both the self storage operator and the consumer."
Self Storage Directory is a premier self storage finder of operator large and small. Its modern technology enable consumers and businesses to find, compare and save on self storage anywhere in the country.
###