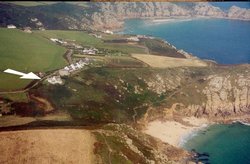 Many are choosing Cornwall over a holiday abroad for a variety of reasons, concern for the environment being one, with cost of air travel being key too, and a holiday in Cornwall offers real value for money.
(PRWeb UK) November 16, 2010
As winner of 'Best UK Holiday County or Region' in the British Travel Awards, Cornwall can truly claim that, despite the economy its holiday home market remains strong.
Mathew Filewood, Manager, Cornish Traditional Cottages (which this summer ran out of availability completely) believes the county is benefiting from a change in the publics' holiday habits "It's clear from conversations we have with our customers that many are choosing Cornwall over a holiday abroad for a variety of reasons, cost of air travel being one, and a holiday in Cornwall offers real value for money. Year on year we have also seen such a steady increase in internet led booking that our brochure production has been cut by 90%. People now book their holidays later, generally waiting until a couple of weeks before departure."
Over 220,000 people voted in this years British Travel Awards which boast over seventy categories and span every type of holiday experience, making them the largest awards programme in the UK. Widely referred to as the "Oscars" of the travel industry, they are the most recognisable and sought-after accolades in the sector.
Malcom Bell, Head of Tourism at VisitCornwall comments "This is the third time in five years that Cornwall has come out on top in the British Travel Awards which proves that the county is leading the way and offering the quality holiday experience that visitors demand."
In fact 2010 marked an impressive double award win for Cornwall as St Ives was also named 'Best UK Seaside Town'. Customer Services Manager, Cornish Traditional Cottages, Wendy Mitchell believes the public want to holiday in places they have loved from childhood and are more conscious of the environmental impact of travel, "A lot of customers come to us because, as a company, we love Cornwall and are sensitive to the world around us and not just set up to maximise profit. We're very conscious of our 'green' credentials, and bookings are up by around 8% per property year on year, and owner income by 10%."
Carolyn Rule, Cabinet Member for Economy and Regeneration and Tourism Portfolio Holder, adds: "The industry is becoming increasing competitive, especially under the current economic pressures, and these awards will play a significant role in reassuring both previous and potential visitors of the quality status of Cornwall."
Perhaps the appeal to the holidaymaker is the diversity of country holiday homes represented by companies such as Cornish Traditional Cottages. Properties vary in size, location and price, from the picturesque busy fishing port of Port Isaac to the least developed parts of Cornwall such as the Lizard Peninsula and inland to the 'leafy dell' of Veryan. The company is also always looking for new properties to add to its comprehensive listing of places available for rental and maintains its objective of 'providing comfortable self-catering holiday accommodation at a reasonable price', a commitment that clearly sees many of its past customers returning year after year.
For further information; pictures; or prices on
specific weeks please contact:
Simon Whittam @ SWPR
on: 01752 823414 or 078 0241 6420
Email: enquiries(at)swpr(dot)org(dot)uk
http://www.corncott.com
Notes:
St. Ives has grown from a small fishing village to become a modern holiday resort with excellent amenities to serve its beautiful beaches whilst retaining its original charm. There is still the old fishing quarter with narrow cobbled streets and stone cottages, as well as the world famous artists' colony, attracted by the clarity of the atmosphere and gentle climate which makes outdoor painting possible for much of the year.
A Selection of CTC Properties:
SPRINGWATER, St. Ives (Phillack) - Sleeps 4-6
A 19th Century house close to the village church the house looks down over the tidal Copperhouse Pool and bird sanctuary at the foot of the hill. Fronted by a small walled and gated garden it has a walled and hedged garden at the rear. The main part of the house consists of a light and spacious living room with attractive exposed stone walls, comfortable sitting and dining areas.
Weeks beginning November 20 & 27 and December 4 &11 - £358pw
Available for New Year week at £603
COWSLIP, Hayle - Sleeps 4
With extensive views over peaceful countryside towards St Ives Bay, this newly renovated single storey barn conversion offers light and airy, comfortable accommodation. The wide front door leads directly into a bright open plan living room with a quarry tiled floor and underfloor central heating. There is a newly fitted modern kitchen, a dining area and leather three piece suite, all with lovely views of the sea and coastline. Double glazed French Windows open to a small paved patio with views across the surrounding unspoilt countryside towards the cliffs at Hells Mouth. There is a shared lawn and barbecue area. St Ives is about a 15min drive.
Weeks beginning November 20 & 27 and December 4 &11 - £304pw
Available for Christmas and New Year weeks at £518pw
VESSACKS, Porthcurno, Cornwall - Sleeps10
With unrivalled panoramic views of the sea and rugged coastline, this detached house is set in a superb cliff top position above Porth Chapel beach. Double glazed French Windows look over dramatic headlands. The main living area is a delightful room with a dining suite, comfortable seating and a hatchway separating the fitted kitchen. The south facing sun lounge provides a spectacular vantage point for watching the birdlife circle above the rocks and waves, whilst the unfenced sloping garden which surrounds the house high up on the cliffs is a wonderful place to admire the local flora and fauna and the striking views. The sandy coves of Porth Chapel and Porthcurno are a few minutes walk away as are the open air Minack Theatre and visitor centre and Porthcurnos secret wartime telegraph museum. The South West Coast Path is close by and Lands End 3 miles.
Weeks beginning November 20 & 27 and December 4 &11 - £508pw
Available for Christmas and New Year weeks at £936pw
On the South East coast of Cornwall is:
OLD COASTGUARD COTTAGE, Downderry - Seaton - Sleeps 4-5
With uninterrupted sea views along the coast from Rame Head in the east to Dodman Point westwards, this cosy cottage stands just 50 yards above Downderry beach. One of a small row built for the coastguard station in the early 1800s, the cottage retains much of its period character with white washed walls and a delabole slate roof. The sitting room, with a sanded wood floor, comfortable leather seating and a stone and slate fireplace, has stunning sea views from its bay window, across to the Eddystone lighthouse. The newly fitted kitchen also has spectacular views out to sea and at the back of the property is a sheltered courtyard and laundary room. The beach with sand and rockpools is a short walk, and all the village amenities are close at hand too, with a pub, local shops, post office and restaurant.
Weeks beginning November 20 & 27 and December 4 - £377pw
Available for Christmas and New Year weeks at £622pw
To book any of these cottages call
Cornish Traditional Cottageson 01208 821 666
or check out its website on http://www.corncott.com
For further information; pictures; or prices on
specific weeks please contact:
Simon Whittam @ SWPR
on: 01752 823414 or 078 0241 6420
Email: enquiries(at)swpr(dot)org(dot)uk
###