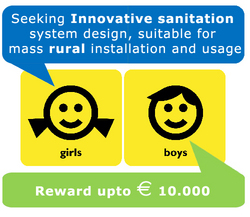 If you have expertise in a innovative toilet design for Indian rural conditions, then we invite you to join the contest. As a token of appreciation we have lined up rewards up to 10,000 Euros
(PRWEB) November 17, 2010
It is often said that Safe Sanitation Systems form the last chapter of human development. 1 in every 4 person in the world does not have access to Sanitation. India is a prime illustration.
Indian Space scientists have put machines on the moon, yet 1 in every 2 Indians does not have access to toilets. Everyday 638 million people or about 50% of the population in India resort to open defecation.
There has been progress, from the "Central Rural Sanitation Programme", which was initiated in 1988 by the Government of India, to the "Total Sanitation Campaign" launched in the year 1999. However according to the 2010 report by UNICEF on progress in sanitation coverage, even in 2008, 69% of rural Indian population did not have access to toilets.
All private and public sanitation drives suffer from some common problems.
1. The quality of constructed toilets is very poor due to budgetary or time constraints.
2. Toilet designs are often not appropriate for the targeted ecological terrain.
3. A lack of clearly defined "standards" for toilet design are leading to toilets that pollute the environment.
4. Stakeholders do not have adequate awareness and knowledge of sustainable sanitation models.
The FINISH 'Sanitation Challenge Contest' is a serious attempt to find solutions to some of the above problems. FINISH, which stands for Financial INclusion Improves Sanitation and Health, with the help of ideaken.com - a collaborative innovation platform provider and other network partners – WASTE, FIN Trust, Ethos India and the World Toilet Organisation have launched an innovation competition to generate new designs in sanitation systems.
The contest is open to all individuals and institutions. Its objective is to arrive at significant, even revolutionary improvements in toilet design, and safe disposal system, specifically suited to different climatic, soil, water table conditions, which will ensure sustainable and safe management of the human waste. This new toilet design will be used to diffuse 1 million safe toilets in India.
A total reward of € 10.000 (Euros) is being offered by FINISH organization. This will be distributed as € 6000 (Euros) for an entirely new system and 4 rewards of € 1000 (Euros) each for 'component' innovations.
The calendar for the contest is as follows:

Launch of contest - Nov 19, 2011 to commemorate 'World Toilet Day'.
Last day of submission of entries – March 1, 2011
Announcement of Results – March 15, 2011
Award Ceremony – March 22, 2011 to commemorate 'World Water Day' in New Delhi
Below quotes are captured from people in villages, while conducting a research around the challenges of sanitation in rural India.
"The toilet was abandoned because during the rainy season the toilet got clogged." (This tells us that local conditions should be taken into consideration)
"The 3rd toilet was constructed by the NGO even though 2 unused toilets already stand in the same house." (This tells us that just building toilets won't solve the issue)
You can help too
Please diffuse this news to sources you think can contribute to designing this new sanitation system. (Including but not limited to social media sites, news sources, NGOs, SMEs in Sanitation, WC/ Restroom and waste management areas, and Engineering and Design crowd)
For more details please visit http://www.ideaken.com/finish
The organizing committee of the FINISH Challenge Contest consists of the following members :
Mr. Sadanand Bhave (Director, FINISH) and Mr. Mukul Singhal (Finance officer, FINISH)
Mr. Valentin Post (Controller/ Senior adviser, WASTE)
Ms. (Dr.) Shyama V. Ramani (Founder-Director FIN & Professor UNU and Maastricht Univ)
Ms. Gita Balakrishnan (Founder-Director, Ethos)
Mr. Madhu Mani (Co-founder and Director, Innovator Engagements, ideaken)
About FINISH
Programme FINISH is being implemented since 2009 by an Indian-Dutch consortium comprising banks, insurance companies and NGOs from the two countries. Its objective is to diffuse 1 million sanitation systems (i.e. toilets) to low income communities in rural India through mobilizing funds from end-user households.
To know more about FINISH, please visit http://www.finishsociety.com
For know more about the FINISH SANITATION CHALLENGE, please visit http://www.ideaken.com/finish
###