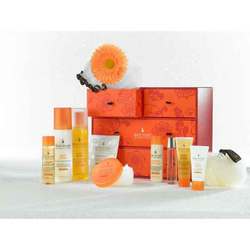 Now it's a little easier to get the right Christmas gifts for women thanks to the Sanctuary Spa in London's Covent Garden.
(PRWEB) November 18, 2010
With Christmas just round the corner now is the time to be looking at gifts for everyone. It can be difficult and quite a challenge to choose gifts for someone especially if they haven't dropped any hints about what they would really like. However, now it's a little easier to get the right gifts for women at least thanks to the Sanctuary Spa in London's Covent Garden.
Originally intended as a place for the female dancers of The Royal Opera House to relax and unwind, today the Sanctuary Spa is exclusively aimed at women who deserve some time and pampering for themselves. Of all the Christmas gifts you could choose, picking a spa day is probably the one that most demonstrates real consideration and genuine affection. However, not everyone can take the time to get away for a spa day, so the Sanctuary has launched a range of spa-quality products as used in many of their treatments that women can enjoy at home.
Many products can now be bought individually, but to save time and effort the Sanctuary Spa has prepared some of their most popular potions and creams into convenient packages that cover almost any need. The Pamper Hamper is the ultimate beauty box with a full selection of Sanctuary must haves like body wash and scrubs, bath soaks, body lotion, body butter and hand creams.
The Sumptuous Sanctuary Collection contains everything that you need for a top-to-toe "at home" pampering session with body wash, body scrub and lotion, hand cream, intensive rescue heel balm and a brightening facial moisture mask.
So from £25 to a maximum of £40 this Christmas, you can show you care with a gift that is as individual as the one you love.
###