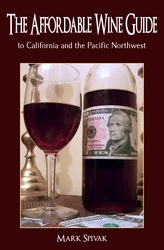 Boca Raton, Florida (PRWEB) November 17, 2010
90% of the wine purchased in the U.S. retails for $15 or less.
Most of this wine is never reviewed.
What's wrong with this picture?
Award-winning wine writer Mark Spivak has published the first user-friendly wine guide for the average consumer. The Affordable Wine Guide to California and the Pacific Northwest contains profiles of 43 mass-market producers and reviews of 275 wines. Each wine is rated, and the reviews tell you exactly what you want to know: What does this wine taste like? What type of food does it go with?
The Affordable Wine Guide is available in every existing ebook format. In addition to reading it on your home computer, It is a perfect fit for your iPhone, PDA or other mobile device, and allows you to access vital information while standing in the wine shop, supermarket or big-box store. It takes the guesswork out of wine shopping---for the price of an everyday bottle of wine.
Even better, it makes the perfect holiday gift for the wine drinker in your life.
Spivak is the former wine columnist for the Palm Beach Post, and has been Wine and Spirits Editor for the Palm Beach Media Group since 2000. He is a trained taster who has received the Certificate and Advanced diplomas from the Court of Master Sommeliers, and is the survivor of long stints in the restaurant business and the wholesale wine trade. He started reviewing supermarket wine in 2003 on his popular website, Spivak On Wine, and discovered a wealth of exceptional values. The Affordable Wine Guide to California and the Pacific Northwest is the first in a series which will include France, Spain, Italy, Australia, Chile and Argentina.
ABOUT SMASHWORDS: Launched in 2008, Smashwords is an ebook publishing and distribution platform serving authors, publishers, readers and retailers. Smashwords makes it free and easy for any author or publisher, anywhere in the world, to instantly publish and distribute a multi-format ebook. Smashwords puts authors and publishers in full control over the pricing, sampling and distribution of their works. Authors and publishers receive up to 85 percent of the net proceeds from sales of their works. Smashwords has distribution relationships with leading online retailers such as Amazon, Barnes & Noble and Sony, and leading mobile e-reading apps such as Stanza, Kobo, Aldiko, FBReader and Word-Player, spanning all major mobile platforms including Android and iPhone. Smashwords is based in Los Gatos, California, and can be reached on the web at http://www.smashwords.com.
CONTACT Mark Spivak at mark(at)spivakonwine(dot)com
PURCHASE OR SAMPLE The Affordable Wine Guide to California and the Pacific Northwest at http://www.smashwords.com/books/view/26774
###