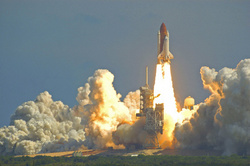 (PRWEB) November 18, 2010
In the spring of 2010, Belgian composer Bruno Misonne set forth on a musical mission. His goal was to bring the Space Shuttle Challenger disaster to a new generation. Within Misonne's latest release, "Challenger," the shuttle's seven crew members are memorialized in an emotional instrumental musical score and video tribute.
In 2007, Bruno Misonne created a new genre of music he called "aviation music." He used actual aircraft sounds, radio transmissions, and electronic instruments to compose his tracks. He released his debut CD, Aviation Music with great success. The unique tracks on the album were featured on the syndicated television show, Living in Style. Following the completion of Aviation Music, Misonne began expanding his creative palette. Rocket engines and space travel was the next logical evolution of his music.
The disaster of the Space Shuttle Challenger in 1986 had an enormous impact on Bruno - a teenager at the time. He decided to focus on this event in the studio. As the track took shape and matured, Misonne realized that the shuttle itself was not the most important aspect – it was the shuttle's crew. An eerie event followed within days of the completion of the musical track and video. Bruno attended a dinner where he met a space astronomer who was friends with Challenger's mission specialist Ronald McNair. Misonne was stunned to learn Ronald McNair was involved in the Music in Space program.
Before McNair's fateful shuttle mission in 1986, he had worked with composer Jean Michel Jarre on a piece of music for Jarre's upcoming album. It was intended that McNair would record his saxophone solo on board the Challenger. This would have made McNair's solo the first original piece of music to have been recorded in space! Misonne was deeply impacted by this occurrence, stating, "I believe this track was meant to be a video tribute, and this chance encounter with a friend of McNair was a sort of a message from one musician to another." Without realizing it, Misonne had continued McNair's mission!
In the summer of 2010, Misonne has launched himself into a new "creative orbit." His musical evolution continues as he begins to compose musical scores for film. However, the release of "Challenger" remains Misonne's most poignant moment as a musician. Somewhere, from high above, mission specialist Ronald McNair and the crew of Challenger are smiling. They know that Bruno has received their transmission and completed his musical mission within "Challenger." Now, it is your mission to go watch the video, listen to the song, and to try and decode the secret message sent from the crew of the Space Shuttle Challenger! Will you be able to accept the challenge within "Challenger?"
CONTACT :
http://www.brunomisonne.com
info(at)brunomisonne(dot)com
###