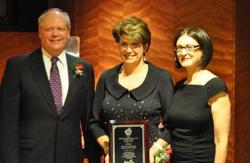 "Alliant has pioneered the collection and sharing of transaction level payment data..."
Brewster, NY (PRWEB) November 17, 2010
In recognition of its contribution to innovation in direct marketing and its service to the industry, Alliant has been named the recipient of the 2010 Corporate "Silver Apple" Award by the Direct Marketing Club of New York (DMCNY). Alliant was received the award at the Club's November 11 gala, where it was joined by seven individual recipients who were also named Silver Apple honorees (see http://www.dmcny.org, "2010 Silver Apples"). The award was presented to Alliant by John Princiotta, Senior Vice President, Publishers Clearing House, a client of Alliant.
Each year, the Club's past presidents gather to select a handful of individuals and a corporate honoree to receive Silver Apples — this is the 26th year that the awards have been presented. Recipients must demonstrate a commitment to volunteerism and leadership and a record of vital contributions to the growth of the industry.
"We are humbled by this award," said JoAnne Monfradi Dunn, Alliant's President and CEO, "and delighted to share the award-giving spotlight with a fundraising effort tied to direct marketing education in our colleges and universities. This is a fast-growing and dynamic field. We need the contributions of a new generation of professionals."
In his remarks to a crowd of 283 direct marketing leaders attending the awards ceremony, Princiotta highlighted Alliant's contributions to the industry. "Alliant has pioneered the collection and sharing of transaction level payment data to help marketers identify top prospects and customers," he said. "Alliant's analytical capability is exceptional and their team is consistently proactive in addressing the constant flow of new challenges we face every day, especially in the ever changing world of online marketing" (see video clip).
According to the company, Alliant began operations in 2003 on the idea that the most valuable asset any marketer can have is a deep understanding of the consumer behaviors that drive response and performance. Today, Alliant provides more than 70 clients with strategic marketing advice, sophisticated analytics, and access to transactional information detailing the purchasing behaviors of more than 130 million U.S. consumers, through the use of "cooperative" databases where clients contribute and share on the collective insights of their aggregated customer data. Alliant is among the field's leaders in cooperative database development and the use of those assets as an analytic resource for online and offline marketing innovation.
Alliant's management team is actively involved in the Direct Marketing Association (U.S.), the Direct Marketing Club of New York, the Direct Marketing Educational Foundation, and industry lobbying efforts. In addition, the company supports its employees in their participation with community groups, charities and industry-support organizations — has started toy drives, organized fund-raising efforts for disaster relief, and provided support for educational programs.
In her remarks at the 2010 Silver Apple gala, Dunn underscored Alliant's commitment to volunteer and charitable activity. "As a company, we believe that these contributions of time and money are every bit as important as the investments we make in people, data and technology. We believe that a corporate commitment to giving back is good for the bottom line — because the health of our business can only be as good as the health of the environment in which it operates."
About Alliant
Based in Brewster, NY, Alliant offers predictive analytics solutions that enable direct-to-consumer marketers to achieve higher profitability across multiple channels, including traditional mail, DRTV and digital e-marketing. Alliant's proprietary cooperative databases include more than 130 million consumer files packed with rich, behavioral, transaction-level customer data contributed monthly by many of the world's leading direct response marketers. Alliant uses its proprietary data to empower insight for marketing decisions, delivering powerful multi-channel solutions that let marketers in identify profitable new customers, increase response rates and average order size, minimize payment risk, and increase the success of customer retention and reactivation efforts.
For more information, visit: http://www.alliantdata.com.
# # #