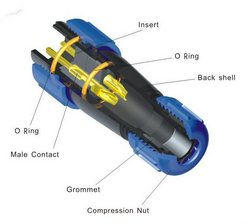 an indoor/outdoor interconnect system which offers the form and function of MIL threaded connectors at the cost of a commercial (COTS) product.
(PRWEB) November 18, 2010
The "Pintail" circular connector range from In2Connect provides low-cost, watertight, interconnection for industrial and waterborne applications. The SP12 and SP21 connectors create an indoor/outdoor interconnect system which offers the form and function of MIL threaded connectors at the cost of a commercial (COTS) product. The SP13 (panel mounting hole size 13mm) and SP21 (panel mounting hole size 21mm) series of multi-pin, threaded coupling connectors are IP68 rated when mated or when fitted with a waterproof end cap and will work reliably indoors, outdoors and in harsh UV and fairly hostile wet environments. They are designed for safe control and LV power connections between equipment where IP68 is critical, e.g. in instrumentation, process control, industrial machinery, automotive, boating and other applications like outdoor lights, LED lights and LED display walls, outdoor security cameras, etc.
Developed by the European Committee for Electrotechnical Standardization (CENELEC), the IP Standards numerically rate an electrical product on the level of protection its enclosure provides. IP68 connectors must allow no ingress of dust with complete protection against electrical contact. They must also prevent ingress of water in harmful quantity when immersed long term under defined conditions of pressure and time (up to 1 m of submersion).
Using a combination of dual "O" ring sealing, high temperature PPS inserts, grommets and compression nuts; all insulator and contact areas in these connectors are fully sealed against environmental elements. The dual "O" rings mean that the integral backshell can be easily removed to allow accurate soldering of the incoming cable. Connector end caps are available to suit and IP68 integrity is achieved when male and female connectors are mated or when the IP68 end cap replaces a mating connector.
The screw machined brass, solder terminations on the SP21 range are plated gold over nickel in cable free plug, in-line cable receptacle and jam nut panel mounting receptacle options.
Plug and receptacle housings are "keyed" to ensure correct polarisation and tactile feedback when mating. Unlike many competitors' products all the Pintail SP13/21 connectors have the option of male or female solder bucket contacts in any body shell; plus the ability to join cables with cable-end plug and in-line receptacle models.
Constructed of glass filled nylon, flammability rated V-0 shells with high temperature inserts these connectors have very stable dielectric and insulating properties plus they provide good mechanical properties at their design temperatures of -40 to 85 degrees C. They are RoHS compliant, CE approved, small, lightweight and extremely cost-effective when compared to their metal counterparts ~ without compromising the integrity of the interconnection.
Pintail connectors are designed for at least 500 mating cycles; backshell options can accommodate cable diameters from 3 to 12mm and they're stocked in depth.
In the same water resisting family In2Connect also offer the chrome plated, brass bodied SF connector. The SF12, IP67 has a self latching system which is renowned for its easy and quick mating/unmating features. It also provides security against vibration, shock or pull on the cable and facilitates operation in a very limited space. The push and pull system also allows the connector to be mated by simply pushing the plug axially into the socket. Once firmly latched, connection cannot be broken by pulling on the cable or any other release sleeve. When required, the connector is disengaged by a single axial pull on the outer release sleeve. It first disengages the latches and then withdraws the plug from the socket.
Notes for Editors
In2Connect offer a full range of IP67/69 rated environmentally sealed circular connectors designed to provide secure and safe connections in harsh or hostile conditions.
The circular connectors of the company's WA22 series are designed to meet the high requirements of industrial applications under harsh environmental conditions. The range includes versions with screw, or solder terminations in a rugged design with integral cable retention, accepting cable diameters from 7 to 10mm and wire cross sections from 0.75mm to 2.5mm². Using a combination of sealing washers, inserts; grommets and PG11 threaded compression nuts; the insulators and contact areas in these connectors are sealed against environmental elements. The seals are sited so that the integral backshell can be easily removed to allow accurate soldering or screwing of the cores of the incoming cable. Connector end caps are available to suit the panel mount version and IP67 integrity is achieved when male and female connectors are mated or when the IP67 end cap is fitted to the IP67 socket body. The WA22 connectors are designed for at least 500 mating cycles and the cable entry can accommodate cable diameters from 7 to 10mm.
The receptacle connectors share the same mounting footprint as similar connectors from Amphenol-Tuchel (C16-1) and Binder (962/963), so these connectors will mate with or replace those and other similar industry standard connectors.
In2Connect are also an outlet for Souriau IP68/IP69 "UTS", plastic bodied bayonet connectors, compatible with MIL-C 26482 circulars and Conxall MIL-E-QUAL plastic bodied equivalents to MIL-C 5015 circular connectors.
In2Connect also offer an extensive range of waterproof IP67 rated d-sub connector s in standard, high density, combination and filtered designs. Socket and plug connectors are available with solder cup, straight or right angled PCB contacts. Designed with a one piece Solid Body zinc diecast housing to resist mechanical impacts during installation and operation and minimise possible leakage paths; these connectors comply to current solder requirements with RoHS compliant solder temperatures. These types are both UL and CSA approved. With this water resistant d-sub system, the back-potted and 'O' ring mounted panel connectors always ensure full IP67 conformity whether mated or unmated and can be further protected by an end cap when unmated. The mating cable end connector can have a waterproof hood as shown in the colour picture above. This has a compression ring to stop the ingress of water via the cable entry point at the rear and a sealing skirt at the connector interface. The cable-end connection will not itself meet IP67 when unmated unless a waterproof cap is fitted. Once mated, then the total connexion interface, not just the panel mount connector will conform to IP67.
From a data signal viewpoint In2Connect also specialise in waterproof industrial versions of the RJ45, USB connectors. The Ethernet RJ45 meets Cat 5e requirements for data rates up to 100Mbs, whilst the USB is designed to meet USB version 2.0 specifications for data rates up to 480Mbs.
To complete the waterproof family, Optical fibre LC connections with IP68 ratings are now also available enabling much simpler and quicker connections for applications where standard fibre cabling would not stand the strain.
In2Connect UK Ltd supply commercial, industrial and military connectors worldwide. With over 40 years experience in cable and connectors, they can provide effective solutions to many PCB and cable-end interconnect challenges. From d-subs ~ through multipin rectangular and circular, filtered, waterproof or hermetic connectors; PCB backplane connectors and edgecards ~ to custom cable assemblies, optical fibre, and flexi-circuits: In2Connect handle them all.
In2Connect UK Ltd is a manufacturer as well as franchised distributor for many of the industry's leading electronic connector manufacturers including In2Connect, ITW McMurdo, Conec, ept, Sullins, Nicomatic, Essen, HTP and Calmont Wire and Cable.
The company base their market offering around the reputation of their brands and on their ability to give customers an individual advisory service that saves them the time involved in searching multiple websites for interconnect solutions. The company's freshly redesigned, user-friendly website with new content and layout has an obvious link on the home page straight to a download page enabling engineers and purchasers to find technical and design data sheets very quickly.
As a value added Connector Company, In2Connect supply to the World's most respected OEMs in the Aerospace, Military, Commercial, Electronics, Instrumentation and CEM sectors.
As managing Director Bob Hart explains ~
"We offer a very personal supply service to both customers and suppliers alike. Concentrating purely in products and suppliers that we solidly understand helps both ends of the supply chain get what they want, quality products at competitive prices and in the optimum lead time.
We base our market offering around the reputation of our RoHS Compliant brands and our ability to give customers the sort of individual advisory service that our far larger competitors don't have time for.
The ability of the Internet to disseminate technical and design information direct from our website http://www.in2connect.uk.com/datasheets.html enables us to run as a small operation but achieve big things. That said, we've just published a new full colour flyer listing the connector and cable types for which we're best known and we will gladly post hard copies upon request."
Contact:
Bob Hart
In2Connect UK Ltd
PO Box 66
Alresford
Hampshire
SO24 0WX
UK
Tel: +44(0)1962 773004
Fax: +44(0)1962 773104
sales(at)in2connect(dot)uk(dot)com
The UK's prime source for d-sub rectangular and multiway circular connectors; cables and cable harnesses.
Please visit the In2Connect UK website at http://www.in2connect.uk.com/datasheets.html to download PDF copies of their cable and connector product data.
###