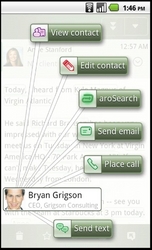 "We're thrilled to announce the beta release of the Aro intelligent mobile experience at the Web 2.0 Summit today."
San Francisco, CA (PRWEB) November 16, 2010
Kiha Software Inc., a Seattle-based startup, today announced the public beta release of Aro Mobile, a smarter mobile experience that understands your communications and delivers relevant, timely information on the go.
Kiha shares this news from the Web 2.0 Summit in San Francisco where the company is giving the first public presentation of Aro Mobile onstage. Aro was chosen as one of five hand-picked companies to present during the Radar Session at the Summit on Tuesday, November 16th at 3:45pm PST.
"We're thrilled to announce the beta release of the Aro intelligent mobile experience at the Web 2.0 Summit today," said Jonathan Lazarus, CEO and co-founder of Aro Mobile. "This is an ideal setting to present Aro's groundbreaking platform to power users who often deal with information overload. We're excited to show how Aro makes you more efficient."
The Aro experience includes a new action-driven user interface that understands your life and the important people and organizations you connect with. Aro features contextually-aware email, contact management, and a smarter calendar that surface the right information at the right time.
Aro is powered by a proprietary data analytics system that leverages cloud-based semantic processing and data extraction to analyze, organize and connect relevant information into a social graph based upon the user's communications. The Aro social graph and web services provide the intelligence that enables the innovative mobile user interface.
The Aro team based their product on several years of intensive primary research with hundreds of smartphone users. Aro's research revealed that smartphone users are overwhelmed by the number of steps necessary to complete even the simplest tasks such as adding an event to the calendar, not to mention more difficult tasks like calculating travel time between meetings, or following an ongoing conversation from phone call to email to text and back again.
The Aro Mobile experience eliminates unnecessary steps by making intelligent associations between pieces of information across different applications on the mobile device.
Core features include:

Aro's Quick Action Menus enable intuitive, context-relevant actions at a touch. Quick Action Menus make sending emails, making phone calls, creating contacts and calendar events faster and easier.
AroSearch delivers relevant, timely information, based upon social graph relationships and text matches, that is prioritized and categorized according to context.
Aro Email unifies email from multiple accounts and lets users view messages by author, date, or threaded topic.
Aro Calendar makes scheduling a meeting easier than ever before, and has built in location-awareness and smart travel buffers to help you get where you need to be – on time.
AroStream delivers prioritized conversations and content in real-time via a dynamic flow of updated emails, text messages, social network posts, missed phone calls and upcoming events. Know what matters now.
Aro was born out of Microsoft co-founder Paul Allen's vision for a more intelligent mobile experience and was developed by Kiha Software during nearly three years of work by a team of nearly sixty talented professionals in Seattle, Washington.
Today, Aro announces a Beta program open to the general public. To register for the public beta program visit: http://www.aro.com.
About Kiha Software Inc.
Kiha Software Inc. was founded in 2008 to reinvent the mobile experience. Aro is an innovative mobile experience that combines an action-driven user interface with an intelligent web service that understands your communications and delivers relevant, timely information on the go.
The Aro beta release is currently available for Android-based devices. For more information visit http://www.aro.com.
###