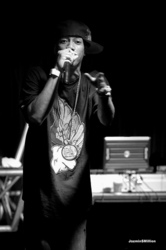 We're ecstatic to welcome such a hard working artist to the family
Vancouver, BC (Vocus) November 17, 2010
Canadian record label Wandering Worx Music announced today the addition of Grammy nominated hip-hop artist Planet Asia to its growing roster. The announcement comes shortly before the release of his first single on the label – 'Classical Music', featuring Rass Kass, Torae and label-mate Jasiri X – scheduled to drop on Wandering Worx Bandcamp page this Friday, November 19th.
The California rapper's first album on the Wandering Worx label, titled 'Black Belt Theatre', is set for release in early 2011 and will feature big names in hip hop like Talib Kweli, Raekwon of Wu-Tang, Paul Wall, and Evidence and DJ Babu of Dilated Peoples.
Planet Asia has already built a name for himself in hip-hop, proven by his Grammy nomination in 2002 for the hit single 'W'. After releasing 'How the West Was Won' with Rasco under the group name Cali Agents, Planet Asia was named First Round Draft Pick by The Source, with the record receiving Independent Album of the Year accolades from the magazine. His solo debut 'The Grand Opening' released in 2004, garnered the same honor.
"We're ecstatic to welcome such a hard working artist to the family," says Rodney Davidson, Wandering Worx co-founder. "Planet Asia has been catching critical attention since the late '90s, and we're confident he'll continue to make waves with us and help make this label a hip hop force to reckon with."
Based in Vancouver, BC, Wandering Worx Music launched in October 2010 as the official record label of Wandering Worx Entertainment. The label's debut release, Rel!g!on's 'Revelationz 1', has already garnered critical acclaim, with the record's first single 'Lucid', featuring Moka Only and E.D.G.E, in rotation on Much Music. The label is also working closely with renowned Vancouver producer Chin Injeti, who has collaborated with Kanye West, Drake and 50 Cent, in addition to producing two tracks on Eminem's Recovery.
###