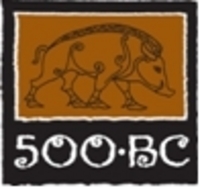 Study the past if you would divine the future
Great Falls, VA (PRWEB) November 16, 2010
500 BC, Inc. today announced the launch of 500 BC–EVOLVE, a new social networking game to help mankind deal with the pressing issues of the times: the quest for life's meaning amid battles over natural resources, power and an undercurrent of whining and bickering across the political spectrum.
Sound familiar?
Now available on Facebook, 500 BC-EVOLVE is designed to entertain, educate and enchant by connecting people around the world to the roots of civilization and some of the greatest thinkers in human history. The game transports players back in time, some 2500 years and 100 generations, tapping into ancestral wisdom traditions buried deep in our inherited past.
The world of 500 BC-EVOLVE is full of fearsome foes like unenlightened boars, offensive corn gods, shoddy shaman, furious faeries and savage, smoking Scythians who place the future of civilization in grave peril. Players are encouraged to invite their friends and build their tribes because then, as now, there is strength in numbers
Ever throw a dart using an atlatl? A worthwhile skill, especially if you anger a Thracian warrior woman from the Black Sea. Lured into chaos, gluttony, ignorance and deviousness by the Four Fiends? (We've all been there.) Dandelion wine and leaves are just the trick to clean body and soul. And in 500 BC–EVOLVE you can engage Yinglong the dragon to help fight temptation.
"Study the past if you would divine the future" –Confucius, 551-479 BC
"Are the similarities between what is happening today and in 500 BC purely coincidental? I don't think so," offers company co-founder Cara O'Faolain. After all, we are all products of the past; history literally flows through our veins. Why battle our way out of life's challenges as if no one has ever been here before?
Just seven percent of all human beings who have ever lived are alive right now, according to Harvard University History Professor, Niall Ferguson. "History encourages that we 7% understand what the other 93% experienced in their time."
"Since the dawn of time, mankind's ability to live by our wits has been the key to survival," said O'Faolain. "We're hoping 500 BC-EVOLVE attracts a gathering of brainy beasts of all political species to help civilization evolve and prosper," she continued.
"Partisanship and pessimism have no place in the world of 500 BC-EVOLVE. This is a place to laugh and to learn, using the best of what we've been given by the past to help us meet the demands of the future."
Our ancestors used their deep relationships with the natural world and their cultural heritage for guidance in fighting life's battles. These perspectives remain a source of healing power and inspiration for those who listen. "Isn't it time we did just that?" O'Faolain asked.
About 500 BC
500 BC, Inc. is a knowledge network dedicated to helping people engage in a better, more sustainable way to live by inspiring a deeper connection to their heritage, ancestors, funny bones and the natural world. 500 BC currently produces a website and a social networking game,
500 BC–EVOLVE.
500 BC draws inspiration from science, lore, healing and history to deliver age-old truths and common-sense solutions that are easy to understand, easy to act on and relevant today. 500 BC was a period of intellectual and spiritual brilliance worldwide when some of mankind's greatest thinkers roamed the earth. From the Buddha, Confucius and Plato to Sun Tzu and Hippocrates, these thought leaders battled lazy politicians and self-centered bores to help mankind evolve mind, body and soul. Visit http://www.500bc.com; play 500 BC–EVOLVE on Facebook.
© 2010 All rights reserved. 500 BC and 500 BC-EVOLVE are under copyright protection of 500 BC, Inc.
Contact:
650-387-4413
press(at)500bc(dot)com
###