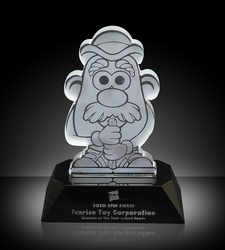 Van Nuys, CA (PRWEB) November 17, 2010
Funrise Toy Corporation is proud to have been honored with the Hasbro "Licensee of the Year Award" for the Tonka brand. This is a prestigious award given by Hasbro honoring Funrise's dedication to the Tonka brand and recognizing their partnership with Hasbro over the last twelve years. For over 60 years Tonka has played an essential part of boyhood. Funrise is pleased to be a part of such a respected brand in the toy industry. Funrise looks forward to continuing the Tonka tradition in designing and manufacturing quality Tonka products for future generations to come.
About Funrise
Founded in 1987, Funrise is an adventurous innovator of superior toys and an industry leader in the manufacturing and distribution of the most popular children's toys. Simply put…we create fun! Funrise's core property portfolio includes Gazillion® Bubbles, HEADBANGERS™, Home Arcade, Tub Town®, Lil' Cupcake®, Sassy Stables™, Shelcore's Shake 'N Bobbles®, Sunny Steps and Play & Imagine® with leading licensed power brands such as Tonka®, Disney©, Sesame Street©, National Geographic and more, making our product offerings diverse and full of fun for kids of all ages! Funrise Toy Corporation is a wholly-owned subsidiary of Matrix Holdings Limited. Funrise U.S. headquarters are located in Van Nuys, CA, with offices in Hong Kong, United Kingdom, and France and with additional showrooms in Dallas and Bentonville, AR. Funrise is operated by Arnie Rubin, vice chairman of Matrix and president of Funrise who also serves as Chairman of the Toy Industry Foundation (T.I.F.) and past Chair of the Toy Industry Association (T.I.A.). Funrise's success results from its commitment to quality manufacturing, progressive marketing and a values-based corporate culture.
For more information, visit http://www.funrise.com
###