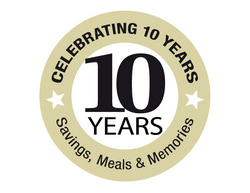 Restaurant.com looked towards New Orleans for November's honor based on the city's range of dishes, coupled with a welcoming culinary culture that is world renowned
Arlington Heights, IL (PRWEB) November 17, 2010
In special recognition of a culture rich in flavorful cuisine, Restaurant.com today announced that it is paying homage to the whole city of New Orleans by naming "The Big Easy" as its "Restaurant of the Month" for November. As part of the recognition, Restaurant.com is putting a new spin on its monthly spotlight program by focusing on the city and highlighting four venues from Creole Cuisine Restaurant Concepts. Each restaurant represents a different take on New Orleans' Creole flair and gives "Restaurant of the Month" site visitors a full taste of the city's famed dining culture.
"Restaurant.com looked towards New Orleans for November's honor based on the city's range of dishes, coupled with a welcoming culinary culture that is world renowned," said Cary Chessick, Restaurant.com president and CEO. "With so many options at hand, one restaurant just wasn't enough. It was clear to us that we should crown all of New Orleans by featuring multiple restaurants that exemplify the city's flavors."
As part of the monthly recognition, New Orleans cuisine is featured on the Restaurant.com homepage with a link that directs site visitors to the "Restaurant of the Month" webpage: http://www.Restaurant.com/NewOrleans. The webpage expands on the city's rich history, which is rooted in entertainment ranging from Jazz to Mardi Gras. To give site visitors a better sense of the range of the city's flavors, the page also offers detailed information on Creole Cuisine's venues, displaying a gallery of pictures that take site visitors through each restaurant, which include:
• Primo's Restaurant - A restaurant that combines Italian favorites with New Orleans flavors, Primo's serves traditional items like Baked Lasagna Bolognese and Veal Marsala with Cajun Redfish and Crawfish Entouffe. Diners can also feast on an Alligator Po-Boy, in addition to the more conventional Oyster, Catfish, Crawfish or Shrimp versions.
• The Royal House - This dining establishment is host to a menu of classic New Orleans fare, focused around seafood. With a wrap-around balcony overlooking the historic Royal Street, this venue gives a bird's-eye-view of the city.
• The Original Pierre Maspero - Offering a menu that fuses traditional Cajun with contemporary Louisiana cuisine, the Original Pierre Maspero is nestled in the oldest historic building in the French Quarter. The restaurant offers novelty dishes like Seafood Stuffed Pistolettes and New Orleans Barbeque Shrimp, Fried or Grilled Alligator or a Hot and Blue Oyster Po-Boy.
• Pier 424 Seafood Market Restaurant - The restaurant owns bragging rights to the city's largest oyster bar, with oyster medleys baked with spinach, bacon and Pernod. At the heart of Bourbon street, this is also where fresh seafood is prepared to taste, accompanied with any of Pier 424's six signature sauces.
"New Orleans offers a taste that demands exploration, by anyone looking to wake up their taste buds," said Carol Keltz, Director of Marketing and Training for Creole Cuisines Restaurant Concepts. "With restaurants that showcase the range in flavors that can be found in our amazing city, we're honored that Restaurant.com has chosen us to represent New Orleans for Restaurant of the Month."
Throughout 2010, Restaurant.com is paying tribute to devoted customers, restaurant partners, clients, staff and community members through a series of 10-year anniversary activities. The Restaurant of the Month program continues the celebration. On the New Orleans "Restaurant of the Month" webpage, Restaurant.com includes a search box of popular cities so site visitors can find additional "10 Year Anniversary Featured Restaurants" in their area and explore other options in the Restaurant.com program. New Orleans and its rich flavors join other restaurants honored by the program such as Public House, Christopher's at the Biltmore Fashion Park, SkyCity, Philly G's, The Claddagh Irish Pub, and Fior d'Italia since the program's launch in March. To learn more about the Restaurant of the Month program and the spotlighted cuisine for November visit: http://www.Restaurant.com/NewOrleans.
About Restaurant.com
Restaurant.com is the trusted and valued source connecting restaurants and diners nationwide. The company offers savings at more than 15,000 restaurants nationwide with more than 35,000 daily gift certificate options. Restaurant.com brings people together to relax, converse and enjoy well-prepared and -served meals at affordable prices. To date, Restaurant.com customers have saved more than $500 million through the gift certificate program. Restaurant.com has operated since 1999 and is based in Arlington Heights, Ill.
# # #