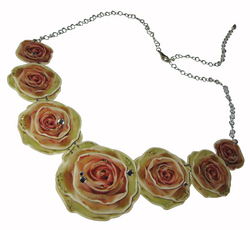 The distinctive design promises to make every outfit and every occasion more joyful.
Rewey, WI (PRWEB) November 18, 2010
There is something captivating in Fun-Fantastic®, a new eco jewelry collection designed by Nurit Spiegel to be your unique source for unique jewelry gifts this holiday. It's not just the fact that this exquisite collection was produced showing different colorful lines, but each line has its own character, for example So Happy Butterflies, It is also the design itself, a special and exceptional style that goes into the heart and makes people happy.
Jewelry from the Fun-Fantastic® collection is actually made with great sophistication that gets several purposes. These jewelry are a recycle (first goal: Ecology) of natural materials such as orange peel and dried petals which serves as the platform (eco paper) of each piece of jewel. The special process that this unique eco paper goes through ensures the item's durability, luster and resistance to moisture and perspiration. Each handmade item in this wonderful wearable art jewelry collection is uniquely designed by Nurit, and combines Sterling silver chains and findings, painting and set with Swarovski crystals.
"Each piece goes through a meticulous process of being hand joined together with sterling silver and the addition of shimmering Swarovski crystals to add flair and life, culminating into a magnificent piece of handcrafted jewelry that makes unique special gifts for yourself and for your loved ones." She emphasized.
The distinctive design shown for example with the Enchanting Ladies line or with the special line Popeye Makes Me :) promises to make every outfit and every occasion more joyful. The style of the whole collection using recycled materials combined with special design and rich palette of color creates individual characteristics (second goal) and differentiation from other jewelry gifts that are on the shelf (goal number three).
About Nurit-Spiegel.com
Nurit-Spiegel.com by jewelry designer Nurit Spiegel is a jewelry website that its aim is to provide authentic, unique and innovative fashion jewelry that allows a person to express themselves through each piece. Nurit Spiegel Jewelry Design is committed to production practices that do not harm the environment through the use of environmentally friendly materials and products.
More information and experiences on http://www.nurit-spiegel.com
Email us to: info(at)nurit-spiegel(dot)com
Nurit Spiegel may also be reached via phone number 972-50-3641758
###