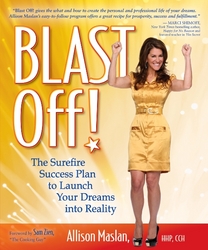 It's not easy being green
San Diego, CA (Vocus) November 17, 2010
"It's not easy being green," said Kermit the Frog. Sometimes running a business can feel somewhat isolating for many entrepreneurs. Collaborating is where businesses grow. Now Allison Maslan brings together like thinkers for her new program The Pinnacle. Maslan gives 50 people the opportunity to achieve their goals faster than they ever thought possible and create their own stimulus package.
The year-long Pinnacle Program (http://www.ThePinnacleProgram.com), a Mastermind group, encourages members to be accountable, brainstorm, and challenge one another to reach their goals. Allison Maslan (http://www.MyBlastOff.com), president Of Blast Off! Life and Business Coaching and No. 1 author of Blast Off launches The Pinnacle Program in January 2011.
"The Pinnacle Program will surround you with a team of entrepreneurs to help you succeed. You get the benefit of differing perspectives, input and feedback," said Maslan. "Plus, your mastermind team can bring resources and connections you might not have had on your own."
Maslan adds, "The Pinnacle helps you feel part of a team as you receive accountability and inspiration from the group, thus enabling you to maintain focus in achieving your goals. You'll feel supported along the way."
Mastermind groups have a solid history of providing support and accountability to the members so that they are successful. Napoleon Hill (http://www.naphill.org), author of Think and Grow Rich, first defined the Mastermind as a "coordination of knowledge and effort, in a spirit of harmony, between two or more people, for the attainment of a definite purpose. The ability to create things in the world is increased by having that invisible 'third mind' of the mastermind group."
Hill's concept of the "Mastermind" was inspired by Andrew Carnegie, the wealthy steel magnate.
"Carnegie believed that being a member of a Mastermind group was essential for success. He frequently brainstormed together with his group to become even more successful." Hill states, "Carnegie attributed his entire fortune to the POWER he accumulated through this 'Master Mind.'"
Maslan said the reason for organizing The Pinnacle Program is personal.
"As a life and business strategist, my greatest passion has been coaching thousands to success in all levels of life. I've developed a proven formula that creates winners, and then takes these winners to the pinnacle, the very highest point on the mountain," shared Maslan. "And now I have decided to take a limited number of people to The Pinnacle with me."
About The Pinnacle Program
Members of the Pinnacle Program will gain complete clarity on your passions and goals; master your craft and purpose; exceed your goals in your life and business; create an exponentially higher income; develop an exceptional quality of life; and, learn to enjoy more time, more fun, and feel more alive than ever before.
Program includes Live Mastermind Seminars in San Diego every quarter (January 22, April 9, July 23, October 22 ) for one mind-bending day. In between each live date you will receive:

Continuous weekly small peer group accountability and support by phone or Skype all year long to ensure you stick to this vision and commitment to reach your goals. (52 Weeks!)
Monthly group coaching calls led by Allison.
Daily accountability system for all Pinnacle attendees to keep you on track and focused on a daily basis.
Constant energy, momentum and inspiration moving you forward for an entire year.
Synergy, support, insight and direction through the power and intention of this group
2 private laser mega-brainstorm sessions with Allison.
Membership is limited to 50 individuals who must apply for participation.
About Allison Maslan
Allison Maslan was recently named One of 50 Women Entrepreneurs Who Inspire Us by Self-Made Magazine (http://www.selfmademagazine.com). Maslan has been regarded as the most results oriented strategic life and business coach in the country. As a life and business strategist, Maslan has coached thousands of clients in developing and achieving their own successful life and business ventures.
She has been an avid entrepreneur building nine of her own businesses in many different industries while raising her daughter on her own. She also used her success formula to manifest and marry her soulmate five years ago. Maslan absolutely walks her talk.
One of Allison's passions is to fly high on the flying trapeze, which she feels is a metaphor for life and business. Climb the ladder, put your head toward your goal, and jump in with both feet! This is the perfect flight plan to mix inspiration, passion and success.
She is the president of Blast Off! Life and Business Coaching, an international motivational speaker and No. 1 bestselling author of "Blast Off! The Surefire Success Plan to Launch Your Dreams Into Reality." Maslan was a finalist in 2010 for the Ethan Awards honoring the entrepreneurial author, and was nominated for the San Diego Business Journal's Women Who Mean Business Award. She has been an expert guest on several FOX, NBC and ABC news shows across the country.
Stay connected with Allison Maslan on Facebook and Twitter and on her Web site: http://www.MyBlastOff.com
Media Coverage of Allison Maslan: http://www.myblastoff.com/Media-Coverage.html
###