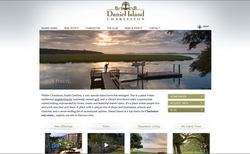 Charleston, SC (PRWEB) November 18, 2010
When it comes to using technology for business, the real estate industry is not known for being a leader in innovation. But a developer of master planned communities in South Carolina recently launched an advanced new website that employs a unique combination of interactive tools to help market Charleston real estate in its flagship community, Daniel Island.
"Our goal is to be a leader within the industry when it comes to using technology," says Carolyn Lancaster, Vice President of Marketing for the Daniel Island Company. "But budgets across our industry have been hit hard the past couple of years, and our company is no exception. It's forced us to work smarter and try to achieve more with less."
When Lancaster's team set out to overhaul their three-year old website, http://www.danielisland.com, they were faced with a budget that was a fraction of what their previous site cost to develop, and the challenge of creating a superior tool for marketing residential property within the 4,000-acre master planned community in Charleston. Among the team's objectives were to integrate the company's new property database and CRM system, include a comprehensive content management system (CMS) that would allow the site to be updated in-house and on the fly, and to incorporate a customized, searchable interactive map, all while maintaining the company's established high-end branding standards.
A contract project manager was tasked with bringing these elements together and keeping within budget. Several strategies helped the team pull off their goals:

A crowd sourcing resource, 99 Designs, was used to develop the look of the custom site, saving thousands of dollars on the design phase of the project.
The programmer for the project then took the designs and incorporated WordPress on the back end as the CMS, allowing pictures and text throughout the site to easily be updated in-house. In addition to being easy to use, the Wordpress core provided plug-in and SEO tools that ensured the site would be optimized for search rankings as soon as it was launched. And for future upgrades, Wordpress' theme functionality allows the look of the site to easily be changed if and when needed.
For the property search function of the site, the team was able to integrate with Propertybase, a CRM application that is built on the Salesforce platform. Propertybase is used by the Daniel Island Company and its real estate subsidiary to manage inventory, leads and transactions. The programmers of the new website were able to pick and choose what inventory data to feed to the site, and to connect the site's contact form back to Propertybase. Using this existing technology saved significant time and money, and it streamlines the data management requirements of the marketing and sales staffs on an ongoing basis. Properties are entered once into Propertybase for internal operations purposes, and then fed to the website for its search component, eliminating the risk of error associated with double-entry and allowing for real time search on the website. And with contact information submitted from the website going directly into the company's CRM, sales associates and staff always have the information they need about their clients and prospects all in one place.
In developer-owned master planned communities, the real estate company often focuses solely on promoting their own product. But in order to make this site competitive with other local brokerage companies, the team decided to offer an MLS search as a secondary search option so that all property available for sale within the community could be represented, not just the company's own listings. The MLS feed was customized in a way that allowed searches on the site to be expanded to include listings in the community from all real estate agencies. While many real estate companies use MLS as their key search tool, the combination of the Daniel Island Company's own proprietary search with the more global MLS search provided a custom solution that met the specific needs of both the company and its clients.
The incorporation of an interactive map was required to help orient visitors to the community and the Charleston area, and to provide property search functionality. It was important for the map to remain on brand, but there was not the budget to develop a custom mapping tool. The solution was to use Google Maps' V3 API to develop robust mapping applications for the site. A custom overlay allowed the appearance of the map to match the company's branded real estate map. Data for listings is pulled from Propertybase, allowing all properties and search results to show up correctly on the map. As an added bonus, the map works on mobile devices, eliminating the need to build a separate map for mobile devices, which are increasingly important for online real estate applications.
"Integrating technologies from Google, Wordpress and Salesforce for this new site had multiple benefits," said project manager Jason Bradford of Inked Digital. "In addition to keeping costs down and turnaround times under control, these trusted platforms provide a solid foundation for future upgrades to the site. As technologies change and improve, we are confident that our site will be adaptable and able to change with the times."
About Daniel Island
Located in the historic city of Charleston, South Carolina, Daniel Island is one of the nation's most successful and highly regarded master-planned communities of the last decade. Developed by the Daniel Island Company, the 4,000-acre island is a 2007 recipient of the Urban Land Institute's prestigious "Award for Excellence" and a national model for smart growth. A highly-desirable destination for Charleston real estate, Daniel Island is home to a wide array of traditional neighborhoods with a diverse selection of homes, homesites, townhomes and condominiums. Daniel Island also offers residents access to hundreds of acres of parks, 23 miles of rivers and creeks and more than 12 miles of leisure trails. Professional tennis and soccer facilities and a private country club featuring two nationally-ranked golf courses provide endless recreational opportunities. The island's downtown is a popular address for a growing array of schools, churches, shops, restaurants, medical offices and other conveniences, as well as a destination for area festivals and special events.
###