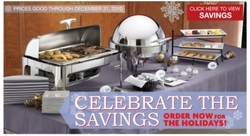 We've always noticed that these buffet items are popular sellers during the holiday season, and we like to offer some additional savings to our customers
St. Paul, MN (PRWEB) November 17, 2010
Superior Products is offering special savings on the catering supplies and restaurant equipment that are in high demand during the holiday season. The Holiday Catering sales event allows restaurants and caterers to enjoy reduced prices on all the equipment needed for a successful holiday buffet - such as serving utensils, pan carriers, chafers, coffee pots and more.
"We've always noticed that these buffet items are popular sellers during the holiday season, and we like to offer some additional savings to our customers," said Superior Products Director of Category Management, Steve Grosshans.
Restaurant owners will find low prices on items covering every facet of the holiday buffet. Items included in this catering supplies and restaurant equipment sales event range from the smallest details - like buffet tongs - to deluxe 101 cup automatic coffee makers. Superior Products' excellent shipping speed ensures that owners will receive their in-stock supplies and equipment in plenty of time for the holiday buffet season.
See the entire selection of buffet, catering and restaurant supplies available in this event at the Holiday Catering Sale.
Sign up for the Superior Products email newsletter or request a mail catalog to stay on top of all the latest deals and news.
Superior Products is a commercial kitchen equipment supplier that offers solutions that deliver efficiency and value. As a trusted industry leader since 1935, our in-depth product knowledge makes our professionals valuable business partners.
###