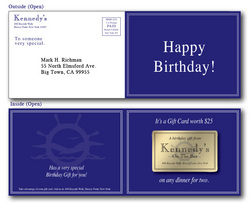 Nanuet, NY (PRWEB) November 18, 2010
In May 2010 a survey done by the National Restaurant Association (NRA) showed that the number one special occasion for dining out is someone's birthday. Among those surveyed 55% said that they dined out on their birthday, 30% said that they dined out on their spouse's birthday and 35% said that they dined out on a relatives birthday. This information acting as a catalyst drove the Plastic Card City staff to create a new program to help restaurants that are in need of a new approach to their marketing efforts.
The new program is a step above normal mail based marketing because it approaches the prospective customer on a personal level. Most common mail based marketing efforts usually fail because the public is saturated with these offers. In most cases the mailer is addressed to "Occupant" or another generic address. This program approaches the potential customer personally by incorporating date sensitive personal information and a personalized message, this approach has been proven to get the recipient's attention much better than the standard mail advertisement.
New available population data based information allows for creation of mailing lists for predefined areas and the birthday's of the prospective customers, in addition you can select other filtering parameters to target your potential customers. When combining the data with a well-designed mailing piece that both addresses the birthday event and makes an inviting offer the percentage of people responding to the offer increases dramatically.
The design department at Plastic Card City has been working on similar programs in other industries and has been able to adjust the idea to match the needs of the restaurant industry. Two major formats are offered based on past experiences. One is a folded postcard printed in color with a personalized birthday message on it, inside is a removable plastic gift card with the offer. This is a very elegant piece and it stands out from other marketing mail pieces. The second is a plastic postcard with a tear-out section the size of a credit card with the offer. Just like the first unit this one too uses a personalized birthday approach.
Additional information and sample art is available online, click Restaurant Birthday Promotions for additional information.
About Plastic Card City
Plastic Card City is a full-service provider of plastic gift cards, plastic key tags and card key tag combinations. Services offered include planning of gift, loyalty and discount card programs to companies in the following industries:
Hospitality, Healthcare, Restaurant, Technology, Retail, Fundraising, Travel and many others.
Plastic Card City is dedicated to deliver the most cost effective products without compromising quality or delivery requirements, and most importantly all cards and key tags are produced in the USA.
###