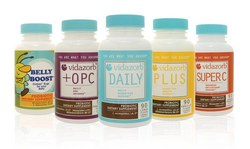 We never heard the word 'probiotics' from a medical professional
Beltsville, MD (Vocus) November 17, 2010
Is childhood eczema becoming an epidemic? Recent statistics show that one in ten children develop symptoms of eczema before the age of five1. This is alarming news for parents. The obvious symptoms that accompany eczema are often hard for a child and parents to overcome. The children are left feeling miserable and parents are left feeling hopeless and confused by the affliction. Fortunately, recent studies show that regular use of probiotic supplements like Vidazorb® may be the key to relief of eczema.
Eczema is not an allergy in itself. It is rather the body's response to things it is allergic to such as food, fabric, grass, pollen and environmental factors that can trigger the skin's response of incessant itching, hives and welts. Medical treatment often includes oral or topical steroids, which can be too harsh for a child's delicate system, and often, can actually worsen the situation.
Intolerable itching can lead children to scratching themselves until their skin is red with sores, sometimes to the point of bleeding. Even though eczema is not contagious, the unsightly nature of the breakout can lead to alienation by other playmates and their parents.
"Our four year old son suffered from such bad eczema and food allergies, that we had to tape his pajamas to his wrists and ankles to keep him from scratching himself. His skin looked so awful that we couldn't even bring him to the community swimming pool because of the reaction of others," says Lynn Stone, mother of two.
In this case, the Stone family visited a number of specialists who continued the use of steroids to treat their son. His eczema got worse and he developed such severe food allergies that at one time, all he could eat was chicken, peas or rice with no two in combination. It was then that the family doctor told Lynn that modern medicine had failed her son. As is so often the case with children who suffer from eczema, the quest for a solution can be long and wearisome.
Fortunately, parents may be able to help lessen the severity of their child's eczema by providing safe, enjoyable and effective probiotic supplements. Probiotics are desirable microorganisms that, when ingested in adequate amounts, have repeatedly been found to aid good health in children. Vidazorb® Belly Boost™ chewable probiotic formulation may be just what both parents and children are looking for in a solution for eczema. The Chr Hansen probiotic strains used in Vidazorb® have been found to be beneficial to participants in numerous clinical studies. Results from recent studies also indicate that probiotics may be effective in helping to lessen the presence of eczema symptoms.
The results of a study conducted in Finland indicate that probiotics may offset inflammatory responses in places of the body other than the gut such as eczema on the skin. Half of the infants in this study were given formula supplemented with probiotic strains, including Bifidobacterium lactis, BB-12, to measure the impact, if any, on the skin. The other half received unsupplemented forumula. Those taking the fortified formula had fewer incidents of eczema and showed better improvement if they already suffered from the condition over the infants who received the unsupplemented formula2.
A study published in the Journal of Allergy provided evidence that a mother taking effective probiotic supplements while pregnant, helped in limiting the incidence of eczema or lessened the severity and duration of attacks. The study included 150 pregnant women who were split into two groups and either given a probiotic or a placebo during the last six weeks of pregnancy. Once these women gave birth, their children were monitored. Those children whose mothers had received probiotic formulations received an additional twelve months of probiotics themselves, while the children born of the mothers in the placebo group continued to receive a placebo. The rate of eczema experienced by the children taking the probiotic supplement was less than half of the placebo group. Even after two years, the rate of eczema in the supplemented children was still significantly less that in the placebo group3.
Two important considerations for parents when choosing a probiotic for their children are the specific bacterial strains used the in the formulation and the quantity of those strains per dose, since the benefits of probiotic supplements are both strain and dose specific. Vidazorb® Belly Boost™ uses only Chr. Hansen's clinically substantiated probiotics: Probio-Tec® Bifidobacterium, BB-12® and S. thermophilus TH-4™. These two strains have been found to be especially effective for children and each tablet of Belly Boost™ contains 10 billion CFU4.
Many parents find that Belly Boost™ brings relief to their children and peace of mind to themselves. "Nothing helped my son until we started him on Vidazorb® Belly Boost™ and within a few days we noticed a difference. I honestly didn't think anything of it until we ran out once and I had to substitute another brand in for it. The eczema came right back so I ordered my supply of Belly Boost™ as soon as I could," says Danielle Smith, whose son suffers from eczema.
Lynn Stone saw an improvement in her son's condition after just a few days of taking the daily-recommended dose of Belly Boost™ and notes that his eczema symptoms were gone after three months. "We never heard the word 'probiotics' from a medical professional," she says. "I thought we were out of options. I'm so grateful I found Belly Boost™."
1 Kid's Health.org- Eczema http://kidshealth.org/parent/infections/skin/eczema_atopic_dermatitis.html#
2 Isolauri E, Arovla T, Sutas Y, Moilanen E, Salminen S. Probiotics in the Management of Atopic Eczema. Clin Exp Allergy. 2000 Nov; 30(11): 1604-10.
3 Probiotics May Reduce Skin Condition in Some Kids. (2009, October 9). Retrived April 7, 2010, from Reuters Health website: http://www.reuters.com/article/idUSTRE5985G520091009
4 Information on Strains used in Vidazorb: http://www.vidazorb.com
###