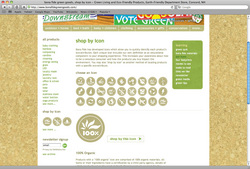 "We are most proud of our 27 eco icons," said Deborah deMoulpied. "They offer an educational component to routine green shopping that has never been developed to this extent."
Concord, NH (PRWEB) November 17, 2010
Bona Fide Green Goods has launched a new website introducing 27 eco icons for a green shopping experience like no other. The new online green living store, hailed as an earth-friendly department store, offers carefully selected products for a more sustainable lifestyle.
Based out of Concord, NH, Bona Fide started out as a dedicated green living store and, after four years, has solidified its mission by creating an education-based website.
In addition to their new online shopping website, Bona Fide offers an extensive "learning" category for the inquisitive customer, beginning with a "green quiz" and including books, movies, and links pertaining to the environment.
Bona Fide uses its detailed "four footprints" philosophy as a guide for determining an item's "greenness". In addition to a carbon footprint, Bona Fide adds water, chemical, and social footprints to the mix of environmental impacts. Customers come away with a clearer understanding of what makes a product green and how they can make a difference.
"There is a reason why we carry each and every product and we can tell you what makes it green," said Jonathan Gregory, co-manager of Bona Fide. "We begin by asking ourselves if the product considers the 3 R's: Reduce, Reuse, and Recycle. The next step is to consider our four footprints and whether the product is an improvement over its mainstream counterpart. Usually, 'carbon footprint' is all that is talked about, but we [also] consider water, the chemicals used, and the people behind the product."
Bona Fide recently added Duralex to their product line. Toughened glass made in France, Duralex is a non-toxic, safe alternative to plastic, with a recycled content of 85%. "Duralex has been in business for 70 years providing durable glassware, and with an 85% recycled content, it's the perfect example of the type of green products we look for." said Lisa Eshelman, co-manager and product specialist at Bona Fide.
Bona Fide developed an impressive set of unique icons to help customers quickly identify products according to specific green criteria. Customers can learn about these attributes and then shop accordingly.
"We are most proud of our 27 eco icons," said owner and founder Deborah deMoulpied. "They offer an educational component to the routine green shopping experience that has never been done to this extent. The icon graphics are beautiful and their interactive capability let the consumer really know why their product is green."
Committed to social responsibility, Bona Fide highlights two Afghanistan companies which have New Hampshire roots.
Rubia, based out of Weare, NH, is a non-profit organization for Afghan women to develop economic opportunities through their craft heritage. Rubia's hand embroidered textiles often use reclaimed fabrics, adding beautiful traditional hand stitching to each piece. Rubia's finely crafted product line includes bags, pillow cases, and lavender sachets.
Arghand, founded in May 2005 by Sarah Chayes, a former National Public Radio reporter, is fast becoming a leading natural luxury soap and skin care line. Chayes originally learned to make soap in New Hampshire. With the abundant local fruit crops and a handful of loyal and daring Kandaharis, Chayes began producing high quality natural soaps. Today, Arghand is a thriving cooperative producing fine soaps, oils, and creams.
Bona Fide Green Goods, formally Real Green Goods, is a retail green living store offering eco-friendly products both online and at their storefront located in Concord, NH. With hundreds of products to choose from, Bona Fide offers "a little bit of everything" for quality one-stop shopping.
# # #