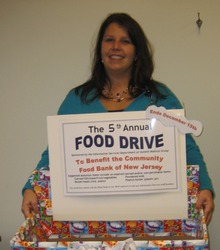 There are a terrific number of people at SMG who love to volunteer and give of themselves, but it is not so easy to figure out where and how to contribute
Berkeley Heights, NJ (Vocus) November 17, 2010
Summit Medical Group's Information Services department is sponsoring its Fifth Annual Food Drive to benefit the Community Food Bank of New Jersey, November 18 to December 15.
IS department team members have been sponsoring the drive since 2006, when it began as a teambuilding event. Since then, they have collected 2.3 tons of food. In addition to the drive, IS team members also coordinate volunteer nights at CFB's food warehouse in Hillside. Warehouse volunteers sort and repack food for distribution to recipients, stock shelves with food, assist in the Thrift Shop, assemble fundraising mailings, and sort and package new clothes for children in the Kids' Division. Over the past year, SMG employees have donated more than 100 hours of volunteer work.
"There are a terrific number of people at SMG who love to volunteer and give of themselves, but it is not so easy to figure out where and how to contribute," notes Christina English, IS department team member. "By organizing the food drive and the volunteer nights, it provides people with an opportunity to give back to others and takes the work out of trying to figure out where to volunteer. SMG volunteers can also bring family members with them and spend some time together doing a good deed."
The public is invited to contribute. Donation boxes are in the main reception area at each Summit Medical Group location. At the Diamond Hill Road facility, donation boxes are located in the main reception area at Bensely Pavilion, Lawrence Pavilion and the Administration Entrance. Requested donation items include unexpired: powered milk, peanut butter (plastic jars), boxed meals (rice, pasta, cereal), all canned items (fish, meat, fruit, vegetables). Items in glass jars cannot be donated.
About Summit Medical Group
Summit Medical Group (SMG) is the largest privately held multispecialty medical practice in New Jersey. SMG has pioneered information technology advances in health care with its early adoption of electronic health records and e-prescribing. With more than 200 highly qualified providers, it is one of the most unique health care models in the state. SMG has an award-winning customer service program and NJBiz magazine has named it one of New Jersey's "Fifty Fastest Growing Companies". SMG treats more than 55,000 patients per month at its main campus in Berkeley Heights as well as its satellites in Berkeley Heights, Morristown, Millburn, Shorts Hills, Summit, Warren, and Westfield. As one of the East Coast's premier multispecialty groups, SMG has provided exceptional primary and specialty care since 1929. For more information, please visit http://www.summitmedicalgroup.com.
###