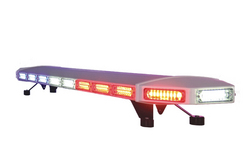 One of the most popular light bars in the Extreme Tactical Dynamics catalog is the Full-Size Light Bar with Priority 1 Optics
Jupiter, FL (PRWEB) November 17, 2010
Extreme Tactical Dynamics today announced that it will be expanding its selection of light bars for use on emergency services vehicles and police cars. Light bars are among the most effective warning systems available and are used to alert nearby traffic and pedestrians of approaching fire trucks, ambulances, police cars and other first response vehicles. Extreme Tactical Dynamics is a leading supplier of tactical gear and equipment to first responders throughout the country; the newly expanded selection of light bars is expected to allow the company to serve its customers even better.
One of the most popular light bars in the Extreme Tactical Dynamics catalog is the
Full-Size Light Bar with Priority 1 Optics; this sleek, low-profile LED light bar is designed to provide maximum visibility in a roof-mounted package that incorporates takedown lights at the front and alley lights on each side. Priority 1 Optics ensure a wider field of visibility, and the brilliant LED lights can be programmed to display a variety of flashing and strobe patterns, making it a standout in the full-size light bar marketplace.
The company also offers dash light bars in a variety of configurations and colors that are designed to suit nearly any tactical need. From bright white takedown lights to the full range of LED lighting choices, Extreme Tactical Dynamics sells only the best LED light bars at the best prices. Dual, quad, and surface mount LED light bars are available as well and offer maximum versatility for cash-strapped local agencies in need of high-quality tactical equipment.
About Extreme Tactical Dynamics:
Extreme Tactical Dynamics specializes in LED lighting solutions and all types of tactical gear and provides this equipment to police, fire, and first response agencies at reasonable prices. Clients multiple local, state and federal agencies located throughout the United States. Extreme Tactical Dynamics. This commitment to service has made Extreme Tactical Dynamics the popular choice for first responders throughout the U.S.
Contact:
Extreme Tactical Dynamics
2581 Jupiter Park Drive Suite F-15
Jupiter, Florida 33458
1-888-893-3308
http://www.extremetacticaldynamics.com/
###