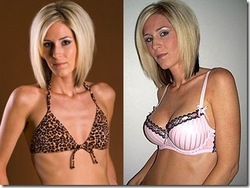 Essentially the premise is there are women who are seeking breast augmentation, and they need to find men who are willing to pay for it. So the site ingeniously pairs those two parties up
San Francisco, CA (PRWEB) November 18, 2010
Rob Fishman, social media editor for the Huffington Post, recently discussed MyFreeImplants.com on MSNBC.
"MyFreeImplants is one of my favorite sites for social networking. Essentially the premise is there are women who are seeking breast augmentation, and they need to find men who are willing to pay for it. So the site ingeniously pairs those two parties up."
The discussion was part of the Huffington Post's November 11, 2010 list of "Strange Social Networks." But just how weird is the concept of women obtaining free breast implants? A 2009 survey of 52,000 Americans suggests that MyFreeImplants is providing a much needed service. It states that, if money were no issue, 71 percent of women would consider cosmetic surgeries.
"That's huge," states Co-Founder Jason Grunstra. "The study backs up something we've known for a long time: that there's an enormous desire for these operations but they're too expensive for the average person to afford. At MyFreeImplants, our goal is to level the playing field, and 700 free breast augmentations later our service shows we're accomplishing that!"
MyFreeImplants.com, a social funding company, challenges traditional financial conglomerates by providing the only no cost alternative to expensive cosmetic surgery loans. The service is a specialized social networking website that provides fundraising for women who have a strong desire to enhance their physical appearance through cosmetic breast surgery, and donors who wish to make a difference in their lives. Since its 2005 founding, the website members have raised over $7 million. You can pay them a visit at http://www.myfreeimplants.com.
###