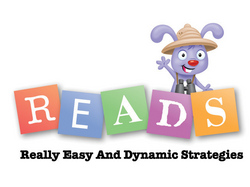 READS Homework Helper allowed my child to focus better and improve his ability to take homework and reading more seriously. And he had fun doing it! It's great for any parent who needs a fun and easy way to encourage reading at home. A.P., Hatboro, PA
Horsham, PA (PRWEB) November 18, 2010
A Pennsylvania elementary school reading specialist with more than 25 years of experience has developed and produced a tool that helps parents reinforce the reading comprehension skills their elementary-age children are learning in school. It also provides a simple system for parents and kids to use to assess how well the young readers "get" what they've read for their homework assignments.
Elaine G. Meyers of Horsham, Pennsylvania, has just begun to market the READS (Really Easy And Dynamic Strategies) Homework Helper through her company's website, http://www.OurHomeworkHelper.com. The entire packet, which contains the READS Question Cards System and peripheral tools, sells for $29.95 including shipping and handling.
"Over the years," says Meyers, "working with students reading at all levels of proficiency, listening to the parents of those children, it became clear to me that even though most parents want to help build their youngsters' reading skills, many of them needed guidance on how to do it.
"Comprehension is the primary objective of reading education. I realized that what moms, dads and young readers needed was a really easy and dynamic strategy to develop reading comprehension strengths. When I couldn't find a method that was effective for parents to use at home, my only option was to 'build' it myself."
And READS was born.
The program is based on a set of 30 question cards that are employed, one at a time, to unlock what young readers have absorbed and understood from their reading assignment. Formulated so that parents need not have read the assignment, they are almost infinitely adaptable to different types of reading materials and even television shows and movies.
"READS Homework Helper is meant to be fun as well as educational," says Meyers. "Young people won't find this to be 'one more boring homework assignment.' Instead, the kids who have used READS have actually reported to us that they enjoy reading with the cards more than they did without them. They look forward to figuring out the answers. It helps them become more enthusiastic as well as more independent learners."
READS Homework Helper also ships with a comprehensive Parent's Handbook and the READS Speedy Speller, the student's own spelling handbook with room to add words the child needs to spell most often.
"Basically, we want to provide parents with the tools and strategies to help their elementary-school-aged children build reading comprehension skills, complete their homework reading assignments—not just 'finish' them—and become better students with less stress and more success.
"For busy families, that may sound like a tall order," says Meyers. "But it really works."
EGM Educational Systems, LLC was established in 2010 by Elaine G. Meyers to develop, distribute and support quality homework tools for families who want to help their children succeed in school. The company's flagship product is the READS Homework Helper, designed to both build and assess reading comprehension. (PO Box 287, Spring House, PA 19477-0287, http://www.ourhomeworkhelper.com, info(at)ourhomeworkhelper(dot)com, 877-876-6970)
Media Contact:
Elaine G. Meyers, B.S., M.Ed.
emeyers(at)ourhomeworkhelper(dot)com
###