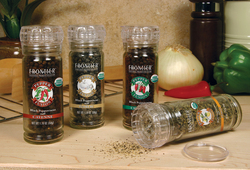 The increasing interest in hot and spicy flavors and the rising demand for organic ingredients provided an opportunity to develop a truly unique product
Norway, IA (Vocus) November 17, 2010
Frontier Natural Products Co-op, the leader in natural and organic spices and seasonings, today announced the launch of its Pepper Fusion Grinders in select Whole Foods Market stores across the U.S. The new seasoning product features whole peppercorns infused with zesty spice combinations.
"We're excited to be working with Frontier to provide even more high quality, organic options for our shoppers to enjoy," said Errol Schweizer, senior global grocery coordinator for Whole Foods Market.
Frontier's Pepper Fusion Spice Grinders takes pepper to a whole new level with four unique flavors ranging from garlic pepper and lemon pepper to specialty items like cayenne pepper and chipotle pepper. The concept of Pepper Fusion is to combine the sharp, hot flavor of whole, organic peppercorns with a complementary spice. "The peppercorns are 'rolled' in ground spices," said Brett Karminski, brand manager at Frontier Natural Products Co-op. "The resulting whole peppercorns are a robust fusion of pepper and spice."
Pepper Fusion Grinders are packaged with Frontier's adjustable grinder cap, which keeps the spice and peppercorns fresh and allows each user to select the grind he or she prefers. Detailed illustrations of the paired spice on each bottle's label help shoppers quickly and easily identify them on the store shelf. "The increasing interest in hot and spicy flavors and the rising demand for organic ingredients provided an opportunity to develop a truly unique product for consumers who are looking for new ways to spice up their meals," said Karminski.
As examples, Karminski suggests seasoning grilled beef and French fries with Garlic Fusion, pairing Lemon Pepper Fusion with seafood and pasta dishes, using Chipotle Fusion to crank up the heat in chili and baked beans, and adding zest potato or egg salad with Cayenne Fusion. Recipe suggestions on the back label of each Pepper Fusion provide additional ideas. "A favorite recipe among our tasting panels was the grilled barbeque chicken pizza," said Karminski.
The new Pepper Fusion Grinder seasonings are now available in select Whole Foods Market locations across the country, including major cities like New York City, Miami, Washington, D.C., Houston, Los Angeles, Denver and Seattle.
Note to Editors: Photo images of the Frontier Organic Pepper Fusion Grinder spice bottles are available by request.
Frontier Natural Products Co-op™
Founded in 1976 and based in Norway, Iowa, Frontier Natural Products Co-op™ offers a full line of natural and organic products under the Frontier, Simply Organic®, Aura Cacia® and Aura Cacia Organics® brands. Products include culinary herbs, spices and baking flavors; bulk herbs and spices; and natural and organic aromatherapy products. Frontier's goal is to provide consumers with the highest-quality organic and natural products while supporting and promoting social and environmental responsibility. For more information, visit Frontier's website at http://www.frontiercoop.com.
###