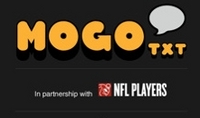 San Francisco, CA (PRWEB) November 22, 2010
MogoTXT, Inc., a celebrity-based global news & entertainment platform, today announced the launch of its new application for the Apple iPad application called MogoTXT!
MogoTXT is launching its new MogoTXT application in partnership with NFL PLAYERS.
MogoTXT is designed to deliver the ultimate multimedia entertainment experience to sports fans. Any iPad user can download a free copy of MogoTXT from the Apple app store. MogoTXT enables users to read text messages posted by NFL players and other sports stars and to easily scroll through thousands of awesome high-resolution sports photos.
With the NFL season in full swing, the MogoTXT app is now displaying up-to-the minute text messages posted by NFL players and by sportswriters and tens of thousands of professional, high-resolution photos taken by Getty Images photographers at the most recent NFL games. Some of the NFL players on Mogo's ever-growing list of personalities include:
Steven Jackson, running back, St. Louis
Alex Mack, center, Cleveland
Terrell Owens, wide receiver, Cincinnati
Percy Harvin, wide receiver, Minnesota
Marques Colston, wide receiver, New Orleans
Scott Fujita, linebacker, Cleveland
The MogoTXT app allows fans to relive the excitement of the most recent games by flipping through vivid images of their favorite players and the most important moments.
MogoTXT users can sign up for free to receive alerts as new content becomes available for the app. In addition to bringing exclusive sports content right to fans' finger tips, MogoTXT also allows users to take advantage of all the features on MogoTXT.com, including perusing athlete-branded virtual goods and officially-licensed NFL player merchandise.
MogoTXT and NFL PLAYERS recently announced the expansion of their existing license relationship to include the right to create and sell virtual goods, apparel and headwear featuring the names and likenesses of NFL players. The stores on MogoTXT.com feature thousands of unique athlete-inspired designs that you can't find anywhere else. MogoTXT now sells merchandise for top NFL players including Steven Jackson, Peyton Manning, Aaron Rogers, Tom Brady, Larry Fitzgerald, Chris Johnson, Calvin Johnson, Adrian Peterson, Philip Rivers, Michael Vick, LaDainian Tomlinson, Percy Harvin and many others!
The MogoTXT app is just the latest from MogoTXT! Check out MogoTXT.com to see the latest addition of sports personalities, features and download the new app!
MogoTXT also announced a new mobile advertising solution that enables MogoTXT to insert relevant ads into the text messages of its athletes and celebrities. The ad targeting system is powered by Sybase 365, and is designed to comply with the endorsement obligations of the professional athletes who join and use MogoTXT. Check out the image below to see how the system works:
About MogoTXT
San Francisco, California-based MogoTXT, Inc. is a celebrity-focused news and entertainment platform that delivers innovative and engaging online and mobile experiences for both celebrities and fans. MogoTXT lets users sign up to receive text messages from their favorite celebrities, and to follow conversations among celebrities as they are happening. When celebrities text, their messages are instantly displayed on MogoTXT and automatically forwarded to their Twitter, Facebook and personal websites. Users can also view high-quality celebrity photos and videoclips on MogoTXT, and share this content on Facebook and Twitter. MogoTXT provides celebrities with an easy and convenient way to reach their fans, along with a superior, rich media presentation. MogoTXT has recently added celebrity-branded virtual goods and licensed merchandise to its product and service offerings. For more information, please visit: http://mogotxt.com/.
About Sybase 365
Sybase 365, a subsidiary of Sybase, Inc., is the global leader in enabling mobile information services for mobile operators, financial institutions and enterprises. They provide the widest offering in SMS, MMS, GRX, IPX interoperability, end-to-end mobile commerce solutions, innovative mCRM, mobile marketing and content delivery services. Sybase 365 processes more than 1.5 billion messages per day, reaching 900 operators and 4.5 billion subscribers around the world. For more information, visit please: http://www.sybase.com/365.
About NFL PLAYERS
Formed in 1994, NFL PLAYERS is the licensing and marketing subsidiary of the NFL Players Association. Representing more than 1,800 active and many memorable former NFL players, NFL PLAYERS "takes the helmets off" the players and markets them as personalities as well as professional athletes. Through an exclusive sponsorship agreement between the organization and the NFL, players are integrated into NFL sponsor activation programs. In addition, NFLPLAYERS.COM, the company's official Web site, is part of the NFL Internet Network. Each year, NFL PLAYERS negotiates and facilitates extensive player marketing opportunities for players. NFL PLAYERS activities include retail licensing, corporate sponsorships and promotions, special events, radio and television projects, publishing and Internet. For more information, please visit NFLPLAYERS.COM.
# # #