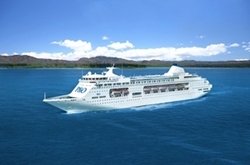 It will be a chance for everyone to see the ship and sample some of the entertainment and food that we offer, while having a great family night out.
(PRWEB) November 18, 2010
The celebration will feature a spectacular fireworks display over Auckland harbour as well as performances by headline acts Dane Rumble and Stan Walker. The free entertainment will also include a large ferris wheel plus circus and street performers.
The 4 ½ hour family festival and naming ceremony will begin at 5pm, with a family cruise prize up for grabs among those who attend. The next day Pacific Pearl departs on her 8-night maiden voyage to New Caledonia.
Ann Sherry, CEO of Carnival Australia, which operates P&O Cruises says "We're very excited to be launching Pacific Pearl in New Zealand. The ship will make a major contribution to the local economy and we're very keen to celebrate her debut by staging a large event for the people of Auckland.
"It will be a chance for everyone to see the ship and sample some of the entertainment and food that we offer, while having a great family night out."
The celebrations will see triple Olympic medallist Barbara Kendall, godmother of Pacific Pearl, officially name the ship with the traditional breaking of a bottle of New Zealand bubbles over the ship's bow.
The public will also get the chance to a sample the exceptional hospitality available onboard the ship with food stalls at the festival serving cuisine from Pacific Pearl's restaurants and cafes, including Luke Mangan's Salt Grill.
The menu samples will feature a strong New Zealand flavour, reflecting P&O Cruises' commitment to sourcing from local food and wine suppliers. These New Zealand components will also be a highlight of two food and wine themed three-night cruises on Pacific Pearl in January and May 2011.
Pacific Pearl is about to undergo a multi-million dollar refit in Singapore before heading to New Zealand, her arrival signifying P&O Cruises' strong commitment to the New Zealand market and recognising New Zealanders' increasing interest in cruise holiday destinations.
Pacific Pearl's many features will include a giant entertainment screen on her pool deck. Stretching seven metres wide and four metres high, the state-of-the-art LED "Big Screen" will create the opportunity for poolside fun day and night.
In a first for the cruise line, Pacific Pearl will give her passengers a new way to soak up the sun and relax while on holiday with a swim-up-bar in one of her two pools.
For a sneak preview of Pacific Pearl's highlights prior to her launch, follow the ship's blog at http://pacificpearl.pocruises.com.au
The arrival of superliner Pacific Pearl in New Zealand this December brings P&O Cruises' Australasian fleet to four ships - Pacific Jewel, Pacific Dawn, Pacific Sun and Pacific Pearl. Pacific Sun, which previously sailed from Auckland, will now offer cruises from Sydney, Fremantle and Newcastle.
Carrying 1,800 passengers, the 63,500-tonne Pacific Pearl will feature a giant poolside entertainment screen, three restaurants including Waterfront, Plantation, and Salt Grill by Luke Mangan, seven bars and lounges, Aqua HealthSpaFitness centre, two swimming pools, a swim-up-bar, multi-level show lounge, four kids centres, a casino and duty-free shopping boutiques.
Visit the official P&O website for a full list of New Zealand holidays
# # #