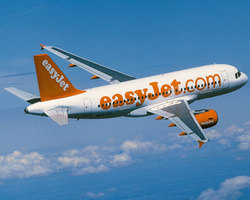 The easyJet flexible fare has been specifically designed to meet the needs of the business traveller
(PRWeb UK) November 17, 2010
The new business fares will offer cheap flights for business travellers with the added flexiblility of being able to change their flights up to 2 hours before departure, one of the key features of business flying.
Passengers can make unlimited changes within a four week time window - one week before and up to three weeks after the original booked travel date. Passengers booking an easyJet flexible fare will also get easyjet's speedy boarding upgrade included in the price of their flight as well as a checked bag in the hold and no booking fees at the point of sale.
The easyJet flexible fares will stay true to easyJet's commitment to cheap flights. They will be competitively priced and are expected to be far cheaper than those offered by the legacy carriers.
Carolyn McCall, easyJet CEO said: "We have seen a growing trend of business travellers choosing to fly easyJet. It's easy to see why - easyJet has the best European network, we fly to main airports, and maintain low fares for passengers. The easyJet flexible fare has been specifically designed to meet the needs of the business traveller, making it even more attractive to choose to fly with easyJet."
The new flexible fares will be initially available only through business booking channels, including Global Distribution Systems and self booking tools used by business travel companies and at a later date will be accessible to all passengers through easyJet.com.
A full marketing and promotional campaign will take place in the first quarter of 2011.
For further information please contact:
easyJet Press Office 01582 52 52 52
Notes to editors
easyJet is now Europe's No. 1 air transport network due to its leading presence on Europe's top 100 routes and at Europe's 50 largest airports. Including some of the most popular European domestic routes such as:

More than 300 million Europeans live within one hour's drive of an easyJet airport, more than any other airline.
We offer the lowest fares to the most convenient airports and this year we are looking to carry over 50 million passengers on over 525 routes between 123 airports across 29 countries. Average easyJet flies passengers 1100 km for just ₤45/€50.
easyJet takes sustainability seriously. Over the last 10 years, the airline has reduced CO2 emissions per passenger km by 25% by investing in the latest technology. Its fleet of nearly 200 state-of-the-art aircraft is only 3.5 years old.
###