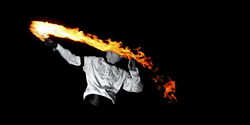 This blog is a great platform to share best practices and insights, as well as create an open discussion around things that matter to network security and operations teams.
Roswell, GA (PRWEB) November 19, 2010
AlgoSec, the market leader for Network Security Policy Management, today announced the launch of Playing with Fire, a new blog providing insight into the challenges, risks and rewards of network security policy management.
Playing with Fire will cover a broad range of topics, both tactical and strategic, from AlgoSec executives and practitioners, as well as guest bloggers and industry experts. Readers will find expert opinions on network security, policy optimization, firewall risk management, and policy change workflow management, as well as practical advice on issues like measuring the ROI of network security policy management and associated programs.
"Most organizations are challenged by the increasing complexity of their network security environment, with hundreds or even thousands of rules across firewalls, VPNs and routers that must be aligned to enhance security and meet stringent compliance mandates," said Nimmy Reichenberg, VP of Marketing for AlgoSec. "We work with businesses everyday to effectively manage their firewall policy and intelligently automate key tasks surrounding security operations. Naturally, we learn a lot from working with and listening to our customers. This blog is a great platform to share best practices and insights, as well as create an open discussion around things that matter to network security and operations teams."
About AlgoSec
AlgoSec is the market leader for Network Security Policy Management. AlgoSec's® exclusive technology is optimized for enterprises, MSPs, auditors and consultants to quantifiably increase their operational effectiveness. More than 600 companies across 40 countries have selected AlgoSec's products – AlgoSec Firewall Analyzer and FireFlow™ – to increase efficiency and reduce costs by intelligently automating what where traditionally manual, time- and labor-intensive tasks surrounding firewall, router and VPN management. Learn more at http://www.AlgoSec.com
###