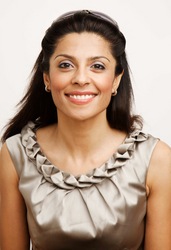 I enjoy helping people become their 'best' selves. A small procedure is often just enough to allow someone to take on the world with confidence!
(PRWeb UK) November 18, 2010
Rozina Ali (http://www.rozinaali.com) one of the country's top surgeons, specialising in breast, reconstructive and cosmetic surgery, is offering FREE 15 minute consultations to people wanting advice between now and Christmas.
"The decision to have any surgery is a big step. It's a truly profound business. My clients want highly reputable expertise with a feminine edge, a guarantee of an empathetic and tailored approach," says Rozina. "I want to offer people a no-commitment chance to come and have a chat and find out what is possible."
The free clinics will be available at The Cadogan Clinic, near Sloane Square, in London, though Rozina will consider offering other clinics at other locations if demand requires. To book a free appointment contact sarah(at)rozinaali(dot)com
With growth in plastic surgery procedures increasing at over 20% a year, driven mostly by women, Rozina has gone from success to success, because she offers a unique edge to surgery, in various ways, as demonstrated on her website: http://www.rozinaali.com

she is one of very few high profile female UK cosmetic surgeons
she offers surgery with an enthusiastic, empathetic viewpoint, offering to understand a patient's fears and enhance their natural beauty
she is extremely highly qualified and has a passion for surgery, breast surgery in particular.
she is highly articulate, dynamic, intelligent, stylish and very attractive to boot!
After several years of successful practice as a reconstructive surgeon in NHS practice in Norwich, Rozina has stepped up her private practice and market her services and points of difference to attract a new affluent, smart, well connected, and potentially hip clientele.
Rozina has already attracted the interest of the finest clinics in the country and has practicing privileges at the stylish Cadogan Clinic in Chelsea, the fashionable Portland hospital for women and children, a Harley Street practice, as well as the respected Spire Hospital in Norwich.
To book an appointment contact: sarah(at)rozinaali(dot)com
Rozina is available for interviews or to give quotes. An excellent and inspiring communicator, she is especially suitable for TV, radio and women's press interviews.
Journalists Notes:
The Plastic Surgery market
The UK cosmetic surgery market has expanded rapidly over the past 5 years (2003 to 2007). The market — which includes both surgical and non-surgical procedures — was estimated to be worth £493m at the end of 2007, with annual growth rates of between 21.7% and 69% from 2003. This growth was mostly driven by women.
The case for promoting plastic surgery online is compelling as in 2008 there were more women online than men in the UK for the first time ever.
For most women, surgery is a major investment in themselves, Spire Healthcare quote a guide price for breast surgery of between £4,500 to £5,000.
Rozina Ali's Professional Qualifications
MD University of London
FRCS (Plast) Intercollegiate Board in Plastic Surgery
FRCS Royal College of Surgeons of England
MB BS St Thomas' Hospital Medical School
BSc (First Class Honours) University of London
For more information, contact:
Simon Whittam
simonwhittam(at)weareonshore(dot)com
Jane Geran
janegeran(at)weareonshore(dot)com
###