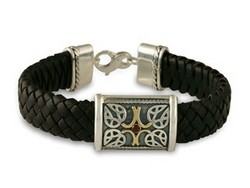 Celtic motifs come out of reverence for the earth and generations of tribal tradition
Santa Fe, NM (PRWEB) November 18, 2010
Exquisite Celtic designer jewelry made with 100% recycled metal, and available with fair trade gemstones, is now available online for the holiday season. The new ecommerce platform, http://www.celticjewelry.com, features over 600 designs, including 100 new Celtic jewelry styles hand made by artisans at Reflective Images' Santa Fe studio. These pieces are considered the finest designer Celtic jewelry collection in the world.
"Celtic motifs come out of reverence for the earth and generations of tribal tradition," said Helen Chantler, the lead designer for the company's collections. "From this place, I have tried to bring contemporary style to designs that are ancient and meaningful."
While most companies are resellers of other designs, offering reproductions of older designs which appeal only to a narrow niche, Chantler is known for her breakthrough originality based upon classic styling. Her offerings include a wide range of exquisite pieces with modern sensibility that appeal to nearly everyone.
Reflective Images is the only truly eco-friendly Celtic jewelry designing company in existence. Everything they fabricate is made by hand with 100% recycled precious metal jewelry. Special holiday promotions will be launched on the Ethical Celtic Jewelry Facebook page.
The new sight features Chantler's award winning collection, including Celtic crosses, Celtic beads, Celtic bracelets, Celtic watches, Celtic pendants and Celtic earrings. Her extensive collection also includes Celtic wedding rings and Celtic engagement rings that have universal appeal, offered with fair trade gemstones and ethically sourced metals. The site also has fabulous Celtic men's jewelry.
Chantler views the work from her studio as about beauty and blessing. Ethical sourcing is critical, because an average bracelet or wedding ring using newly mined gold and silver can result in tons of toxic waste, which is contrary to the Celtic values.
Reflective Images, established in 1995, and with a store gallery in Santa Fe, is known for its pioneering efforts in ethical sourcing as a manufacturer, and for its promotion of fair trade ethics in the jewelry trade. On their sister website, http://www.artisanweddingrings.com, they showcase unique designer wedding rings.
The President of the company, Marc Choyt, is the founder of Fair Jewelry Action, an environmental justice and human rights communications platform. He authors Google's number one 'fair trade jewelry' website, http://www.fairjewelry.org , which is widely regarded as the most comprehensive trade and consumer resource on fair trade jewelry issues. Additionally, he spearheads an international committee which is dedicated to developing fair trade standards for jewelry manufacturing.
###