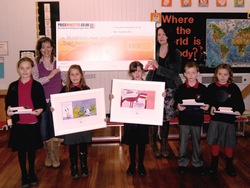 "We are very happy that the competition has been a great success and are most pleased to receive such a positive response. We are always willing to support children in their learning path and hope to work on similar projects in the future"
(PRWEB) November 18, 2010
Earlier this year, PriceMinister teamed up with London's children's book publisher, Little Tiger Press to run an exciting writing and illustrating competition for children across the UK and Ireland. The idea behind this initiative was to actively encourage reading and creativity in children from an early age rather than spending numerous hours absorbing electronic media activity.
PriceMinister recognise that media habits have changed drastically over the years and many children opt to play video games and watch television rather than read and write. "Children as young as eight are spending more than seven hours a day absorbed in an electronic life," claimed a report by the Kaiser Family Foundation. Children devote an average of 7 hours and 38 minutes using 'entertainment media' across a typical day.
The Young Writer and Illustrator Awards invited individuals aged 5-11 from schools, charities and organisations to submit their most original writing and drawing projects. The website http://www.childrens-books-award.co.uk was created as a learning platform and gave teachers the opportunity to download and print useful material from famous authors. Author of The Grunt and the Grouch, Tracey Corderoy and Illustrator of The Three Horrid Pigs, Liz Pichon were amongst the judging panel that shared their experience and offered useful hints and tips.
The competition was a great success and the level of entries was extremely high. From crazy creatures to cute little owls, moving illustrations and original pieces of writing were created. The winners were announced in September with the overall winning schools scooping £800 worth of PriceMinister vouchers to spend on the website.
The Awards presentation ceremony took place early this month and Donnington Primary School and Woodfield Infants received a visit from the Authors themselves who carried out active workshops and awarded the prizes including books and learning toys to those who were victorious. The winners also received their very own branded trophy and a framed version of their work.
Thomas Springett, UK Marketing Manager at PriceMinister said;
"We are very happy that the competition has been a great success and would like to thank all children involved for their excellent effort and achievements.We are always willing to support children in their learning path and hope to work on similar projects in the future."
# # #