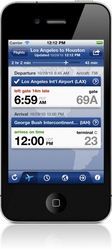 Ann Arbor, MI (PRWEB) November 18, 2010
Mobiata, creators of the best-selling travel apps FlightTrack and FlightTrack Pro, announced today the launch of FlightTrack 4, the biggest update ever to the application. The release celebrates the second anniversary of the day FlightTrack first hit the iTunes App Store. FlightTrack 4 gives iPhone, iPad and Android users several new features including a completely redesigned user interface, airport terminal maps and the ability to find your seat using SeatGuru.
In addition to new features launched this week, and in celebration of the second anniversary on November 17th, Mobiata will partner with a charity that helps families dealing with illness and transportation issues. Starting at 12:01 a.m. Eastern Wednesday, November 17, 2010 and ending at 11:59 p.m. Tuesday, November 23, 2010, Mobiata will donate 20% of all profits made from FlightTrack and FlightTrack Pro to the "Mercy Medical Airlift" nonprofit. The organization provides long-distance medical transportation and urgent air travel for patients and their families.
"Looking back at the last two years, Mobiata has gone from a company with one successful travel app to a leader in the travel industry," said Ben Kazez, president and founder of Mobiata. "We are constantly gathering feedback from our customers to improve upon our apps. FlightTrack 4 includes a host of new features and user interface improvements to make the flight tracking experience even more elegant and we are so excited to share all the improvements with current and new customers across the globe."
New Features for FlightTrack 4 include:

Completely redesigned user interface
Tab bar to organize flight information
Easy-to-read delay forecast graph for both FlightTrack and FlightTrack Pro
SeatGuru map integration to let you find the best seats on your flight
Full display of scheduled, estimated, and actual times for gate departure, takeoff, landing, and gate arrival
Full support for displaying information about flights that have been diverted from their original destination airport
Seamless integration with Concur mobile app so customers can track flights in FlightTrack (for iPhone only)
Full-screen airport terminal maps available for FlightTrack Pro
FlightTrack 4 is available at: http://www.mobiata.com/apps/flighttrack-iphone
FlightTrack Pro 4 is available at: http://www.mobiata.com/apps/flighttrackpro-iphone
Existing users can upgrade to the new version directly from their phone at no cost.
About Mobiata
Mobiata creates best selling mobile travel applications for smartphones. Since its founding in December 2008, Mobiata's applications have been featured by the New York Times, Wall Street Journal, Forbes, Washington Post, TechCrunch, USA Today and in Apple TV and print ads. Mobiata's apps include the best selling FlightTrack, FlightTrack Pro, FlightBoard, TripDeck, StayHIP, HomeAway, FareCompare and HotelPal applications. Mobiata also offers mobile travel design and development services, enabling third parties to easily launch a well-crafted mobile strategy. Mobiata is headquartered in Ann Arbor, Michigan. For more information, visit the website at http://www.mobiata.com. Follow us on Twitter: @mobiata.
# # #