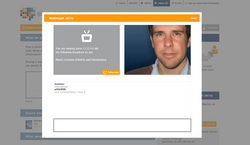 We are not chat roulette or another connect-to-friends-you-already-know social network. It's real people with real topics.
Stuttgart/Germany (PRWEB) November 18, 2010
The creators of BRAINREPUBLIC (http://www.brainrepublic.com ) which lets people video chat about their favorite topics, announced their "Braincast" public beta today.
BRAINREPUBLIC connects people with similar interests and informational pursuits live in color - via text, audio or video. Until now, the platform allowed only one-to-one connections. While this is sufficient for most consulting scenarios that users might think of, there are areas where virtual conference rooms open up a whole new world of opportunities.
The new "Braincasts" make it possible to connect to more than one person at a time. With the ease of a mouse click, coaches create their own webinars, experts share information about certain topics and music teachers broadcast their live lessons. It is a fabulous opportunity for everyone to perform live, express themselves and share this with a virtually unlimited audience.
"BRAINREPUBLIC connects amazing people. They chat about their favorite topics for free or learn from others. It's very diverse what our members seek and find here." says Karim Roth, one of the founders, "We are chat roulette or another connect-to-friends-you-already-know social network. It's real people with real topics."
Members started their own consulting business on the platform; they found finally a way to make money from the convenience of their homes. Their rooms can be even password protected to create closed coaching environments. "This is not a live version of YouTube - ", says Susi Carreira, responsible for BRAINREPUBLIC's design and user interfaces, "What makes it so interesting is the interactivity with the viewers: they can chat to the sender and between each other."
While Braincasts can be used for teaching, product information and expressing opinions, there are also totally different ways to use this new feature: BRAINREPUBLIC has already received positive feedback from sports and music celebrities which are always looking for new interactive ways connecting to their fan base.
But the best of all: everyone can use this technology for free - BRAINREPUBLIC encourages everyone to embed their tools on web sites or blogs. According to Simon Pamies, CTO of BRAINREPUBLIC, this is easy: "With just a little code snippet, every web page or blog owner can offer true interactivity; without the need of revealing phone numbers or Skype accounts." For those people who want to monetize their websites and blogs, his team has even included the possibility to accept credit card payments: "Whoever had nightmares of setting up pay per minute services can now rest assured and use our integrated payment services.", Simon says.
About BRAINREPUBLIC:
Founded and developed in Stuttgart, Germany, BRAINREPUBLIC is the vision of founders Frank Diestelhorst, Oliver Kruse, and Karim Roth, who started as consultants in IT, processes, and personal development. For all three, closing communication gaps was a daily responsibility. The resulting insight — that the world would be a better place if people could exchange information more easily — was the inspiration behind their technology platform designed to enable just that. Acquiring angel funding allowed them to hire an accomplished staff, which realized the BRAINREPUBLIC project in just eight months. Internet address: http://www.brainrepublic.com .
###