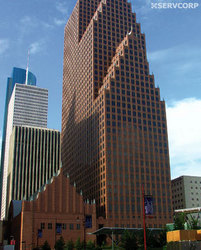 Our Houston locations provide clients a fantastic platform to expand into Houston, which is a major corporate hub and home to the nation's second largest pool of Fortune 500 headquarters and a number of significant national and multinational companies."
Houston, TX (PRWEB) November 18, 2010
Servcorp, a leading provider of virtual offices and executive suites to Fortune 500 companies, small and mid-sized businesses and entrepreneurs, announced today it has opened two exclusive Houston Executive Suites and Houston Virtual Office facilities – Bank of America Center, in the center of Houston's economic and financial environment and Williams Tower located in Uptown Houston.
Today, business professional can obtain a prime business address and office space, whether it is in the center of downtown Houston and its Central Business District or an Uptown Houston location close to the Galleria.
"Our Houston locations provide clients a fantastic platform to expand into Houston, which is a major corporate hub and home to the nation's second largest pool of Fortune 500 headquarters and a number of significant national and multinational companies," said Jennifer Goodwyn, General Manager, U.S.A. "Now, Servcorp clients can establish themselves and their companies in Houston's substantial economic and industrial base, and gain access to the foreign governments which have also established consular centers in metropolitan Houston."
Not only do both of Servcorp's Houston Executive Suites provide its clients the ultimate business address, both facilities offer state-of-the-art IT and communications services and unparalleled international standards of service, which will allow clients to focus on their core business
The Bank of America Center building features 1.25 million square feet of office, retail and parking space, with direct access to the Downtown Houston tunnel system. The Williams Tower location provides some of the finest services and amenities in the Houston area, including a three-acre car park, walking distance to the Galleria and access to five-star hotels, restaurants, high-end shopping and convenient transportation options available walking distance from the tower.
For more information on Servcorp Executive Suites and Virtual Offices or to book your Houston office space today, visit http://www.servcorp.com or call 1-888-777-5581.
About Servcorp
Servcorp is the world's second largest provider of managed workspace and is viewed as the market leader in premium executive suites and virtual offices. Servcorp specializes in its advanced technology platform and five-star service. Its 20,000 clients range from Fortune 500 companies to small and medium-sized businesses and solo practitioners all over the globe. Servcorp clients include Microsoft, Intel, Coca Cola, Toshiba, Ford, Cisco, McKinsey, Mattel, Siebel, Apple, JP Morgan, Morgan Stanley, AOL, Clinique, Hitachi, Chevron Texaco, Marconi, Chicago Mercantile Exchange, Accenture, Vodafone, Credit Suisse, Salesforce.com, Symantec, Citrix, Booz Allen Hamilton and many more internationally recognized corporations. Founded in Sydney in 1978, Servcorp now operates an international network of prime office locations throughout Australia, New Zealand, Japan, China, South-East Asia, India, Europe and the Middle East including the prestigious Chifley Tower, Sydney: Shiroyama Trust Tower, Tokyo; Emirates Towers, Dubai; and Louis Vuitton Building, Paris. Servcorp's international strategy is to open at least 100 additional offices over the next three to four years.
###