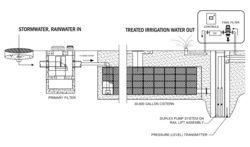 Wahaso's leadership in commercial harvesting systems make them a terrific partner in offering complete system designs for our clients in landscape irrigation design and implementation
Hinsdale, IL (PRWEB) November 22, 2010
Water Harvesting Solutions (http://www.Wahaso.com) has announced a new partnership with Landtech (http://www.Landtechdesign.com) to offer solutions in irrigation system designs using harvested rainwater and other on-site treated water sources. Wahaso, a leader in the design-build of water harvesting systems, will recommend the consulting expertise of Landtech on the irrigation system design of their projects. Landtech, who has specialized in irrigation projects since 1994, will recommend the services of Wahaso to those clients seeking sustainable irrigation using water harvesting systems.
Wahaso is a design-build provider of systems for the harvesting and reuse of various water sources in commercial and institutional properties. The company's integrated solutions may include rainwater sourced from rooftops, stormwater from parking lots, greywater (or gray water) sourced from showers and sinks, condensate from cooling systems and other renewable sources. Once cleaned and stored, the systems recycle the harvested water to help conserve municipal drinking water by using it to flush toilets, irrigate landscaping, replace cooling tower make-up, and other non-potable applications.
"We realize that many of our customers are interested in complete solutions for sourcing and using harvested water," said John R. Bauer, president of Wahaso. "Since many of our systems use harvested water for irrigation, it makes sense to offer a resource like Landtech to design the irrigation system that will make the most responsible use of that water when it is applied." Bauer went on to explain that there are three distinct customer markets for on-site water reuse - Sustainable Building, Stormwater Management and Landscape Design. "Each of these markets has an interest in using harvested water for irrigation. Landtech 's leadership in sustainable irrigation design make it an excellent partner for us," Bauer added.
Landtech irrigation consultants specialize in irrigation infrastructure solutions. The company has completed water management projects across the United States and in several foreign countries. Services include irrigation design and specifications, master planning, construction observation, inspection and system training. Landtech's differentiating factors include expertise in low-volume & drip irrigation, and exploring options available for controllers on the project once it's in the hands of the end-user. This often includes weather-based controllers, and the controller's hardware, software, communication methods, and hand held capabilities.
Jim Davis, General Manager of Landtech stated, "Landtech prides itself in being a leader in sustainable irrigation practices. We have seen a steadily growing interest in using harvested water for irrigation. Wahaso's leadership in commercial harvesting systems make them a terrific partner in offering complete system designs for our clients in landscape irrigation design and implementation. This partnership provides the ideal scenario: smart water-harvesting solutions coupled with highly efficient irrigation applications."
Rainwater and stormwater harvesting are effective strategies for reducing the use of municipal potable water for non-potable applications like irrigation. Systems in commercial properties can typically save 1-3 million gallons per year, and are eligible for points necessary to earn LEED certification.
# # #