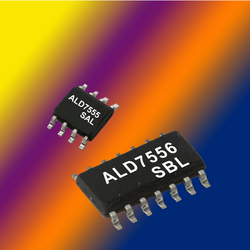 Sunnyvale, CA (Vocus) November 17, 2010
Advanced Linear Devices Inc., a design innovation leader in analog semiconductors, today announced the next generation of their ALD7555/ALD7556Timers. The timers are single/dual monolithic analog IC circuits.ALD 20 years of developing analog products provides the knowhow to evolve the timers to the next level allowing for most precise and lower power circuit applications in the market today. The improved timers have improved power dissipation with the most advanced specifications while reducing total product cost.
In addition to the several technology improvements in the next generations that benefit designers such as increase speed, leakage current, supply current temperature and voltage stability. These advancements of the discharge output have been significantly enhanced to eliminate the need for a separate external driver. This simplifies design time for both analog and digital engineers.
The benefits to product designers are battery power reduction, eliminates additional buffering, smaller footprint and a lower cost capacitor.
Markets that will benefit from these advancements are mobile handheld devices, battery applications, energy harvesting and medical deceives.
Pricing ald7555 .96 each per 100 ald7556 1.57 per 100
About Advanced Linear Devices Inc. Advanced Linear Devices, Inc. (ALD) is a design innovation leader in analog semiconductors specializing in the development and manufacture of precision CMOS linear integrated circuits, including analog switches, A/D converters and chipsets, voltage comparators, operational amplifiers, analog timers, and conventional and EPAD MOSFET transistors. ALD was founded in 1985 with a commitment to bridge technology gaps by providing analog semiconductor solutions to the challenges facing OEM design engineers in the industrial controls, military, automotive, security, and medical instrumentation markets. ALD is headquartered in Sunnyvale, Calif., with distributors throughout the U.S. and Europe.
Company Contact: John P. Skurla, Director of Marketing & Sales, Advanced Linear Devices, Inc., 415 Tasman Drive, Sunnyvale, CA 94089 USA. Telephone: 408-747-1155 408-747-1155 ; Fax: 408-747-1286; E-mail: jpskurla(at)aldinc(dot)com
###