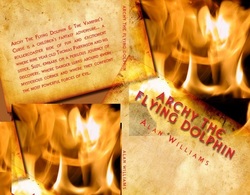 Excerpt... The dolphin's crystal blue eyes were beautiful, sparkling like freshly cut diamonds. "He wants to give us a ride!" said Thomas. His heart was already pounding at the thought of riding on the back of the friendly dolphin.
(PRWEB) November 20, 2010
In the run up to Christmas ArchyTheFlyingDolphin.com believe the launch of their new book will cause quite a stir, because Santa may not be the only one flying across our skies this festive season. Rumor has it that a bottlenose dolphin has been seen flying through the sky from Manhattan to downtown LA. But surely that's impossible. Dolphins can't fly… can they? Okay, tell that to Santa's reindeer.
So who is this magical dolphin?
Archy The Flying Dolphin & The Vampire's Curse is a fantasy adventure... a rollercoaster ride of fun and excitement, where nine-year-old Thomas Parkinson and his sister, Suzy, embark on a perilous voyage of discovery, where danger lurks around every mysterious corner, and where they confront the powerful forces of evil.
When Thomas and Suzy stay with Uncle Fibber for a summer vacation they discover a dolphin trapped in the wreck of an old fishing trawler. After a grueling rescue they realize he's no ordinary dolphin... he's magical. He can fly!
However, amidst their excitement, Thomas and Suzy invoke an evil curse where their nearest and dearest are banished into the never-ending darkness. So they embark on a perilous journey to save their beloved uncle. But they soon discover that only one person can break the evil curse... Victoria von Vampire. Trouble is she loves to boil kids in her Coffin Pot Stew.
Thomas and Suzy are helped along the way by Archy the Flying Dolphin. But is he truly their friend or just another part of the evil curse, leading them straight to Victoria... to become the final ingredients in her infamous stew?
From the pre sales interest ArchyTheFlyingDolphin.com believe this new book is set to fly. Guess we'll all just have to keep watching the skies this Christmas when Archy The Flying Dolphin & The Vampire's Curse comes to town. It's out now on Amazon.com.
For further details visit... http://www.archytheflyingdolphin.com.
###